Steelers Today got challenged to a debate by  Tennessee Titans blog T-Rac's Posse.  As you can probably guess, it was kind of like playing Jeopardy against Paris Hilton; it was just too easy.
Here is his original letter and my reply.
T-Rac's Posse wrote:
So, Steelers Today, as you know the Titans and the Steelers open the NFL season this Thursday. I find this appropriate because I felt last year we were the two best teams in the NFL and  going into this year, I see no reason for this not to be the case again. So lets cut to the chase. This is why I think the Titans will be the victorious team on Thursday:
1) Line domination: When we won last year, it was all because our Offensive Line held serve against your insanely good defense enough for Chris Johnson to get some daylight and for Kerry Collins to get a pass in on a Polamalu misread. On defense, our line dominated your struggling Offensive Line, the closest thing the 2008 Steelers had to an Achilles Heel, and this was WITHOUT Albert Haynesworth. I really see no reason why this won't happen again. The same units are lining up for the Titans on both sides, and I doubt your Offensive Line has improved enough to keep Big Ben upright.
2) Improved Offense: We were able to put up 31 points with our offense last year, and our offense this year is drastically improved. While I do not think we will get 31 points again, I could see us reaching 24 points with our improved weapons, and I don't think your offense can put up that many on our defense.
3) Special Teams: The Titans almost always win the special teams battle, and I feel the Steelers always are below average on special teams themselves. In a game with two teams as close as these two are, special teams always seems to play a role. I give that edge to the Titans.
4) Terrible Towels: Crush it, LenDale. Crush it.
You disagree with any of this, Steelers Today?
Steelers Today responded:
Hmmmm, you say that the Steelers and Titans were the two best teams in the NFL last year.  I agree with half of that statement.
You do make a few good points in your analysis.  Let's see……ummmm, well you said that…..nope that was total B.S……..Hmmmmm, there must have been a good point in there somewhere.  Upon further review, you didn't make any good points in your analysis.  But thanks for trying.
Here are the real reasons why the Steelers are going to be the ones doing the stomping tomorrow (and I don't mean on a towel).
1.  The Steelers are practically unbeatable at home.  Jeff Fisher knows all too well how hard it is to win at Heinz Field.  He's seen the bad mojo that 60,000 Terrible Towels can bring to opposing teams.  He understands that the outcome is inevitable.  But he has to bring his team to Pittsburgh anyway lest he seem like a coward.
2.  The Steelers defense is better than the Titans' offense.  Period.  End of story.
3.  The Titans big off-season free agent signing was former Steelers WR Nate Washington.  Titans fans are going to discover what Steelers fans already know; Washington drops too many balls.  There is a reason why he was our #3 receiver.  But of course, he might not even play.  His alleged injury is clearly a thinly veiled attempt to avoid playing against his former team, the world champion Pittsburgh Steelers.
4.  Kerry Collins is 74 years old.
5.  I do acknowledge that our offensive line was our achilles heel last year, but they had 4 new starters.  Max Starks had to fill in at left tackle when Marvel Smith sustained an injury.  Chris Kemoeatu was a first time starter.  Justin Hartwig was a newly acquired free agent, and Darnell Stapleton was a first time starter who was forced into action when Kendall Simmons suffered a season ending injury.  This year, the offensive line will be a cohesive unit with a season of experience under their belts.  Darnell Stapleton got injured in training camp and is going to miss the season, but the others will be back with far more experience playing together than they had last year.
6.  If you think the Titans have the advantage on special teams, you haven't been paying attention.  I have just two words for you: Stefan Logan.
So the only questions going into tomorrow's game are:
1) How badly are the Steelers going to beat the Titans?
2) When will dentistry final be introduced in the state of Tennessee?
So there you have it Steelers fans.  I think I put this Titans blogger in his proper place.  By the way, he made a very offensive post about the Steelersthat I think Steeler Nation needs to respond to.  So click the link to his post, read the garbage that he wrote, and then leave lots of comments to let him know that Steeler Nation doesn't approve of his opinions.
On a much more serious note:
Don't forget to register for the 14th Annual Lupus Loop 5K w/ Pittsburgh Steeler Willie Colon.
The event will take place Saturday, September 12th at Heinz Field/North Shore.  The event is a 5K Walk, Run, Skate, and Dog Jog to benefit charity.
Willie's mother suffers from lupus, and it played a key role in him choosing Hofstra, so that he could be close to home.  Lupus is a chronic, auto-immune disease in which the body's immune system fails to serve its normal protective functions.  It affects approx 2 million Americans and can be life-threatening.
Saturday's schedule is as follows:
8:30 am Registration / Runners 9am / Walkers 10am
All proceeds benefit local patients and services and The Lupus Foundation of PA.
FOR MORE INFO: lupuspa.org or 412-261-5886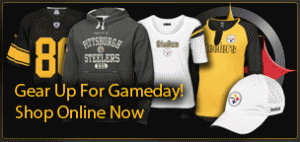 (If you enjoyed this article, please consider leaving a comment below. Also, please subscribe to our blog by pressing the orange button below. You can also follow us on Facebook or Twitter by clicking the doohickies at the bottom of the right column of this page.  Thanks.)
Subscribe in a reader