The Steelers take on the New York Jets this Sunday at 4:15 PM.  The game will be played at Heinz Field, a venue where the Jets have never defeated the Steelers.
That's right……never.  Not once.  Not in the seventies.  Not in the eighties.  Not in the nineties.  And not in the 2000′s.  Never.
And despite their 9-4 record, I don't expect the Jets to break that streak this week.
There are lots of storylines that I could have looked at going into this game.  There's the fact that both the Steelers and Jets are struggling offensively.  Both teams look like they're allergic to scoring touchdowns.
There's the fact that Jets' head coach Rex Ryan is a bit of a flamboyant jerk, who has roots with the hated Baltimore Ravens.  Boo!!!!
There's the fact that Jets quarterback Mark Sanchez has been struggling lately, and Rex Ryan even contemplated benching him.
There's the fact that the Jets have one of the best rushing offenses in the NFL, and come into the game averaging 143.7 yards per game on the ground, while the Steelers have the top rushing defense in the NFL and only allow 60.1 yards per game.  That should be an awesome match-up.
I could have written about how Steelers' safety Troy Polamalu is coming off back-to-back defensive player of the week awards, and should play a key role in the game against the Jets.
But the reality is that there's only one storyline that anybody cares about.  Two former Pittsburgh heroes are coming to town, and we all want to see them leave as goats.
Former Steelers wide receiver and Super Bowl hero Santonio Holmes makes his first return to Heinz Field as a New York Jet.  Steelers fans are a hospitable bunch, and I'm sure that Holmes will be greeted with cheers when his name is announced.
But let's be honest.  Despite the cheers that Holmes will get, we all want to see him do badly.  We want the Steelers to beat his Jets, and we want Holmes to catch no passes against us.  In fact, some of us (including me) even want to see Ryan Clark or Troy Polamalu get a good hit on Holmes when he comes across the middle to catch a pass.
To be clear, I don't hate Holmes.  I respect him for being the talented receiver that he is.  But I do resent that he never seemed to respect the fact that he played for the Pittsburgh Steelers.  He didn't seem to realize the honor that donning the black and gold is, nor did he seem to understand the expectations that go along with wearing those colors.
Instead, Holmes smoked so much weed that it got him shipped to New York…….for a fifth round draft pick.
So yes, I want to see Troy smash Santonio.  He only has to do it once.  After that, my vendetta against Holmes will be satisfied.
The other storyline that we all care about is seeing former Pitt Panther Darrelle Revis get burned by Santonio Holmes' replacement Mike Wallace.
Revis seems to have allowed himself to believe his own press clippings.  He appears to actually believe the hype.  But I don't.  And I think that a 40+ yard bomb from Big Ben to Mike Wallace is just the thing that Revis needs to bring him back down to Earth.  In fact, I'd love to see Wallace burn Revis for two or three 40+ yard plays.
The only thing that would be sweeter than that would be to see Revis fake a hamstring injury while being burned by Wallace.  That would absolutely make my day.
Petty?  Perhaps.  But at least I can admit it.  I want to see Santonio Holmes shut down, and I want to see Darrelle Revis get burned.  Is that too much to ask?
Oh yeah, and I want to see the Steelers win the game.  Can't forget that.
I can't possibly be the only one who wants to see those things, can I?  If there's anyone else who was thinking the same things, please raise your hands.  Yeah, that's what I thought.  Glad to see that I'm not alone.
Other Steelers news
Tight end Heath Miller, who was expected to play on Sunday, suffered headaches on Thursday that appear to be due to his recent concussion.  Miller is now questionable for Sunday's game.
Today's featured item:
Every Steelers fan (particularly those who don't live in western Pennsylvania) needs to mark their territory.  After all, when opposing fans enter your home or work space, they need to know that they're in Steelers country.  And what better way to announce it than with this Steelers country banner?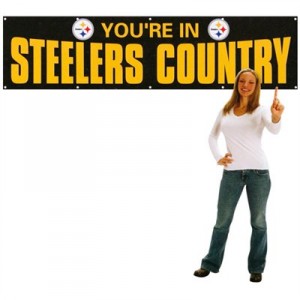 This 8 foot banner will make it clear to all who enter your abode that they are in Steelers country.  So whether you live in Pittsburgh, or Baltimore, or Dallas, or LA, or Paris, get your banner.  Because let's face it, the entire Earth is Steelers country.
To order, simply click on the buy now button above.  Don't delay.  Order now!  There's still time to get your banner before the holidays.
(If you enjoyed this article, please consider leaving a comment by clicking on the square at the top right of this article.  Also, please subscribe to our blog by pressing the orange button below.  You can also follow us on Twitter by clicking the bird doohicky below.  Also consider following us on Facebook. Thanks.)
Subscribe in a reader