In the Steelers' game against the Colts, Ike Taylor had two opportunities to defend (and perhaps even intercept) passes, that unfortunately were instead tipped and caught by opposing receivers. If Taylor had been able to intercept one or both of those passes, the results of the game would have probably been very different.
But of course, Ike didn't intercept the passes. Ike seldom intercepts passes. Heck, if I had a dollar for every potential interception that Ike Taylor has dropped, I'd be a rich man.
That is why I am officially introducing a new term into the Steelers lexicon. My new word is "ike". No, not the name Ike. This "ike" is a verb. It means "to drop a catchable pass". Here is the word used in a sentence; "Tony Romo was disappointed when a wide open Terrell Owens iked his pass". Here is another example, "Big Ben thought about throwing Dallas Baker the ball, but he hesitated because he thought Baker would ike the ball". See how it works? "Ike" is a new verb.
Some will argue that I am being unnecessarily mean to Ike Taylor. They will argue that Ike Taylor is the Steelers' best cornerback. They will tell of how he is often called upon to shadow the opposing team's best receiver. I've even heard some Steelers fans say that he is one of the best shut down corners in the NFL. I tend to disagree.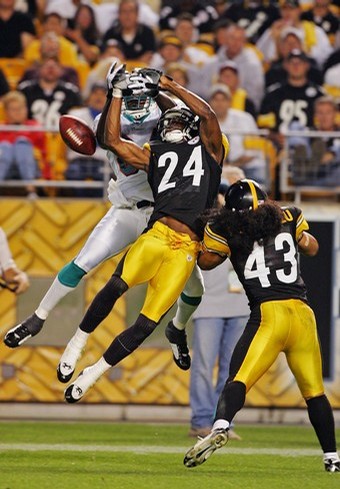 I do agree that Ike Taylor has exceptional physical tools. At 6'2″, he is a "big" cornerback. Moreover, he is fast enough to run with just about any receiver in the league. Those are great credentials for any aspiring cornerback.
Despite Ike's impressive physical talents, I don't think he is an elite cornerback. I sat down and listed the players that I considered to be the top cornerbacks in the NFL. Ike Taylor didn't make my top 10. In fact, he barely made my top 20.
The players who immediately came to mind when I thought of the league's best cornerbacks were people like (in no particular order) Champ Bailey, Dre Bly, Nate Clements, Asante Samuel, Lito Sheppard, Rashean Mathis, Marcus Trufant, Ronde Barber and Chris McAlister. All are smaller (and probably slower) than Ike Taylor, but all are undoubtedly better than Ike.
Even among the Steelers' cornerbacks, Ike Taylor may not be the best. Before he got hurt, Bryant McFadden was establishing himself as the Steelers' best cornerback. And DeShea Townsend has always made up for his limited physical tools by being a heady player who rarely makes mistakes.
Bryant McFadden has played in about half as many games as Ike Taylor, yet he has the same number of career interceptions. Ike Taylor averages the lowest number of interceptions per game among the Steelers' 3 key cornerbacks. This is particularly disappointing because Taylor averages the highest number of passes defensed per game. That means that he has more opportunities to make interceptions. However, when you look at his ratio of interceptions to passes defensed, Taylor's ratio is less than half that of either Bryant McFadden or DeShea Townsend. Both Townsend and McFadden will make approximately one interception for each 4 passes defensed. Taylor, on the other hand, intercepts one pass out of every 10 passes defensed.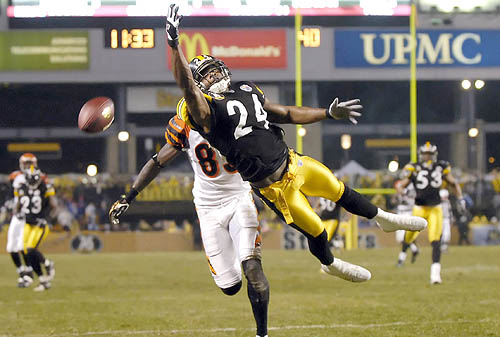 When we look below at my list of the league's best cornerbacks, we see that Ike Taylor's career average for interceptions per game is the lowest on the list.
Player/Interceptions per game
Asante Samuel/.30
Champ Bailey/.29
Rashean Mathis/.28
Ty Law/.28
Dre Bly/.26
Nate Clements/.23
Lito Sheppard/.21
Ronde Barber/.19
Chris McAlister/.19
Marcus Trufant/.18
Ike Taylor/.08
His career average of .08 interceptions per game is less than half that of the next lowest cornerback on my list (Marcus Trufant averages .18 interceptions per game). Champ Bailey and Asante Samuel both average almost .30 interceptions per game.
I believe that most fans would agree about what separates good cornerbacks from great cornerbacks. Good cornerbacks block the pass. Great cornerbacks intercept the pass.
Player/career interceptions
Ty Law/52
Champ Bailey/43
Dre Bly/38
Ronde Barber/33
Nate Clements/28
Chris McAlister/26
Asante Samuel/25
Rashean Mathis/24
Lito Sheppard/18
Marcus Trufant/16
Ike Taylor/7
Someone once said that "if defensive backs could catch, they'd be wide receivers". This is probably true. With Ike's size and speed, I'm sure that at some point in his football career, a coach has tried to turn him into a wide receiver. But that experiment probably didn't last very long.
To be fair, interceptions are not the only measure of a cornerback. Ike Taylor averages more passes defensed per game than every cornerback on my top CB list except for Asante Samuel and Marcus Trufant.
Passes defensed/game
Asante Samuel/.90
Marcus Trufant/.89
Ike Taylor/.79
Rashean Mathis/.69
Chris McAlister/.66
Nate Clements/.64
Lito Sheppard/.63
Champ Bailey/.62
Dre Bly/.60
Ronde Barber/.52
That means he is tough to throw against. Very tough. He is also a very good tackler. However, if he were able to increase his interception rate to anything close to the league average, I believe he could be a Pro Bowl cornerback. Moreover, he could have a game changing impact on a Steelers defense that is already one of the best in the league.
During training camp this summer, it was reported that Ike Taylor was working out with the wide receivers. The media mentioned that story once or twice. If the Steelers' receivers were honest, they'd probably admit that they kicked Taylor out of their practices because they got tired of watching him ike the ball.
(If you enjoyed this article, please consider leaving a comment below. Also, please subscribe to our blog by pressing the orange button below. Thanks.)
Subscribe in a reader