The football gods finally smiled upon the Pittsburgh Steelers. It seemed like each time the Steelers were in a close game this season, fate would snatch victory from their hands. Not this time, though.
The Steelers got a masterful performance from quarterback Ben Roethlisberger. Roethlisberger had thrown eight interception in the Steelers' last 3 games. His play had been so bad, that some fans had even called for Big Ben to be benched in favor of backup Byron Leftwich. But in this game, Roethlisberger played like a virtuoso. He completed 31-41 pass attempts for 308 yards. More importantly, he threw no interceptions.
Big Ben was accurate with his passes, and perhaps more importantly, he was quick with his reads. Roethlisberger made quick slant passes early and often. When the Chargers showed blitz, Big Ben was quick to change the play to a quick slant pass to either Santonio Holmes or Matt Spaeth. This ability to make the hot reads has been one of Roethlisberger's (and Offensive Coordinator Bruce Arians') shortcomings this year.
Roethlisberger completed passes to 7 different receivers. That's right, seven. That may not be a shocking stat for Peyton Manning or Tom Brady, but it is very unusual for Big Ben. Roethlisberger even completed a pass to third string tight end and backup fullback Sean McHugh. That's not something you see everyday.
Roethlisberger ended the game with a 96.4 QB rating. By contrast, Chargers' QB Philip Rivers ended the game with 2 interceptions and a 43.6 QB rating. Rivers had entered the game as the AFC's highest rated passer, and the NFL's leader in touchdown passes. Playing the NFL's top-rated defense can certainly screw up a quarterback's stats.
The Steelers welcomed back running back Willie Parker who had missed time this season due to knee and shoulder injuries. In his return to action, Parker rushed for 115 yards. Parker's running probably helped to keep the Chargers' defense honest, and made it easier for Roethlisberger to have a great passing day.
Perhaps the unsung hero of the game was backup tight end Matt Spaeth. Spaeth, who started in place of injured Heath Miller, caught 6 passes for 55 yards. Most of those seemed to be for 1st downs. Spaeth appeared to be Roethlisberger's "go to" receiver anytime he anticipated a blitz. The strategy worked beautifully.
Of course, Steelers Offensive Coordinator Bruce Arians also gets credit for calling a brilliant offensive game. We have written an entire article about Arians' performance, which can be found here.
Despite 308 passing yards from Roethlisberger, 124 receiving yards by Hines Ward, and 115 yards rushing by Willie Parker, the Steelers' offense actually failed to get into the endzone. Can you believe that? Neither could I. The Steelers' offense was stifled more by penalties than it was by the Chargers' defense. The Steelers were penalized 13 times for 115 yards.
On defense, the Steelers showed why they have the NFL's #1 ranked defense. They held LaDainian Tomlinson to a paltry 57 yards rushing, and held Rivers to 159 yards passing and no touchdown passes. Linebacker James Harrison added a sack, a forced fumble, and an interception to his already impressive statistics. If he's not the NFL's Defensive Player of The Year, I don't know who is.
Safety Troy polamalu also added an interception. He made an amazing play on the ball that had to be reviewed before the Chargers (and the referees) were convinced that it was actually an interception. Troy dived for the ball, and just barely got his fingers under the ball before it hit the ground. He maintained control of the ball, rolled over, and got up running.
Polamalu was also stout against the run. He had several plays against LaDainian Tomlinson that were reminiscent of their Nike commercial.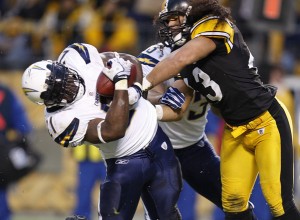 Despite the low score, and the lack of a Steelers touchdown, this was a dominant performance by both the Steelers offense and their defense. It was just an odd game that ended up with an odd score. In fact, according to the NFL, this was the first time that a game had ever ended up with a score of 11-10. The football gods even had the referees call back a touchdown by Troy Polamalu that would have led to a more reasonable score of 17-10. After the game, the refs acknowledged that they had blown the call. But in this game, it was probably fitting. An odd game like this deserved an odd score. 11-10, that's one for the books.
(If you enjoyed this article, please consider leaving a comment below. Also, please subscribe to our blog by pressing the orange button below. Thanks.)
Subscribe in a reader