This week, the Steelers must face the New England Patriots, led by surprising quarterback Matt Cassel.  Prior to this season, many fans had probably never heard of Matt Cassel.  When Tom Brady went down with an injury, most fans probably wrote off the Patriots.  But Matt Cassel has played extremely well, and passed for back-to-back 400+ yard games.  More importantly, the Patriots are 7-4, and are in contention for a wildcard playoff spot.
Most Steelers fans are probably asking "who is this Matt Cassel guy?  Isn't he a scrub who hadn't started a game since high school"?  Well, the answer to that question is "yes and no".  It IS true that prior to this season, Matt Cassel hadn't started a game since high school.  However, it is not necessarily true that he is a scrub.
Coming out of high school, Cassel was ranked as one of the top 10 quarterbacks in the country.  As a result, he was recruited by Pete Carroll to play at USC, one of the most prestigious programs in the nation.  Cassel probably would have become a starter if he had chosen to attend any other school that recruited him other than USC.
While at USC, Cassel spent his entire career as a backup to Heisman trophy winners.  Cassel started his college career as a backup to Heisman Trophy winner Carson Palmer.  He ended his college career as backup to another USC Heisman Trophy winner, Matt Leinart.
Despite having never started a game in college, pro scouts recognized Cassel's potential.  At 6'4″ and 230 lbs., he had nice size.  More importantly, he had a strong arm.  Ultimately, he was drafted in the seventh round by the New England Patriots.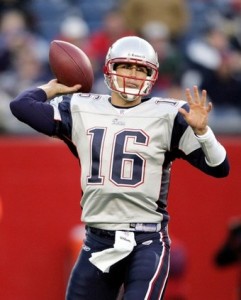 Many fans thought it was a fluke when Cassel passed for 400 yards against the New York Jets two weeks ago.  When he followed that game up with a 415 yard passing game against the Miami Dolphins last week, suddenly Cassel could no longer be taken lightly.
Most Steelers fans would probably agree that Steelers' quarterback Ben Roethlisberger is a franchise quarterback.  Nevertheless, Roethlisberger has never thrown for 400 yards in an NFL game.  Cassel has done it twice in the past 2 weeks.  In fact, Cassel leads Roethlisberger in almost every statistical category this year.
Cassel is 8th in the NFL in passing yardage with 2,615 yards.  Roethlisberger is 17th with 2,233 yards.  Matt Cassel is ranked #10 with a passer rating of 90.5, while Roethlisberger is ranked 21st with a passer rating of 80.5.  Cassel has thrown 13 touchdown passes this year.  Big Ben has 11.  Cassel has completed 66.3% of his passes.  Roethlisberger has completed 61.6%.  Cassel has thrown 24 passes this year that were for 20 yards or more.  Big Ben has only thrown 20 passes for 20+ yards.  The only important category that Big Ben leads Matt Cassel in is interceptions.  Big Ben has thrown 11 interceptions, while Matt Cassel has only thrown 8.  Oh wait, that's bad, isn't it?  Ummmm, forget that last one.
Since Big Ben is a franchise quarterback, and Matt Cassel's statistics are better than Big Ben's, Matt Cassel must also be a franchise quarterback, right?  Moreover, since Cassel's stats are better than Roethlisberger's he must be a better quarterback than Big Ben.  Make sense?  Actually, no.  It doesn't make sense.
Let's look at Matt Cassel's accomplishments a little closer.  Matt Cassel has never faced a passing defense that was ranked in the top 1/3 of NFL.  The best passing defense that he's faced is the Indianapolis Colts, and he lost that game.  The best defense that he has actually beaten is the 6-5 Buffalo Bills' defense.  The Bill's passing defense is ranked #16 in the NFL (out of 32 teams).  That means that they are just barely in the top half of NFL passing defenses.
The Bills' defense gives up 211.5 passing yards per game, and they have a total of 18 sacks.  By comparison, the Steelers defense is ranked #1 in the NFL against the pass and against the run.  The Steelers allow a measly 168 passing yards per game, and they've accumulated a total of 37 sacks.  Translation:  Matt Cassel has been playing against JV defenses.  This Sunday, he'll be facing his first varsity squad.
While many teams were unprepared for Cassel, after two consecutive 400+ yard passing performances, the Steelers will not take him lightly.  Coach Dick LeBeau will have his defense ready to teach Cassel a thing or two.  The Steelers are likely to try to confuse Cassel by constantly shifting their defensive looks right up to the time of the snap.  More importantly, the Steelers have one of the few cornerbacks in the league who has the size and speed to shadow Randy Moss.  With Ike Taylor taking away some of the advantage that Moss usually enjoys, it is going to make Cassel work much harder for his yards than he usually has to.
With his home run target partially neutralized, Cassel is going to have to spend more time searching for his second and third passing options.  This will give the Steelers' pitbulls, James Harrison and LaMarr Woodley, time to get to Cassel.  Cassel has already been sacked 34 times this season.  That's even more sacks than Big Ben has taken, and we all know that Ben gets sacked waaayyyyyyy too often.  So while Matt Cassel will enter the game with 34 sacks, he's not likely to leave the game with 34.  36 or 37 is far more likely.
The one X-factor that might change the complexion of the game is Patriot's coach Bill Belichick.  For those of you who don't know, I don't like Bill Belichick.  Besides being a cheater, Belichick is also a Steelers killer.  He has a knack for creating perfect game plans for facing the Steelers.  There is little doubt in my mind that Belichick will have Cassel and the rest of the Patriots well prepared for this game.  The fact that the game is being played in New England won't help either.
The bottom line is that Matt Cassel is a decent young quarterback.  However, he has never faced a defense like the one that he's going to be facing this weekend.  Bill Belichick will have him well prepared, but it won't make a difference.  The Steelers are going to beat the Patriots.  The only quarterback who can potentially change that outcome is Ben Roethlisberger, not Matt Cassel.
(If you enjoyed this article, please consider leaving a comment below. Also, please subscribe to our blog by pressing the orange button below. Thanks.)
Subscribe in a reader