As our regular readers know, we have been pretty hard on Ike Taylor at times.  It's not that we don't like Ike.  In fact, nothing could be further from the truth.  We love Ike.  When T.O., or Randy Moss, or Plax are in town, there is not a cornerback that we'd rather have covering them than Ike Taylor.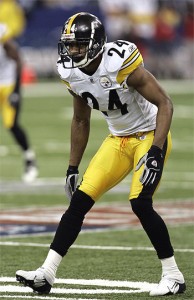 Unfortunately, when there is an easy interception to be had, there is nobody we'd like attempting to catch it less than Ike Taylor.  Let's face it, Ike has hands of stone.  I know a guy who had both of his hands amputated who can catch better than Ike.
Some of you felt that we were being too hard on Ike when we wrote an article called "Catch the damn ball, Ike!!!".  Perhaps we were a bit hard on him.  That's why we are taking the time now to publically acknowledge Ike Taylor's great performance this past week against Dallas.
Ike did a tremendous job of shutting down Terrell Owens (on T.O.'s birthday even) this past Sunday.  In fact, in consecutive weeks, Ike has held Randy Moss and Terrell Owens to 45 yards receiving and 32 yards receiving, respectively.  More importantly, he only allowed 1 touchdown between the two of them.  That lone touchdown only happened because the Steelers dropped both James Harrison and LaMarr Woodley into coverage on the play.  That left Tony Romo with plenty of time to finally find T.O. in the back of the endzone.  If either Silverback or Woodley had been pursuing Romo, there's no way that touchdown happens.  But even Ike can't cover T.O. indefinitely.
Anyone who watched the game on Sunday knows that there was one extraordinary moment that stood out above all others.  No, we're not talking about Deshea Townsend's game winning pick six.  Try again.  Nope, we're not talking about Troy Polamalu's 7th interception.  Care to take another guess?  Nope, we're not talking about Hines Ward's 159th consecutive game with a catch.  Guess again.  No, we're not talking about James Harrison's 7,000th (or at least it seems like that many) sack/forced fumble combination.  No, silly rabbits, we're talking about Ike Taylor's first interception of the season.  Yahoo!!!!!!!
Ike snagged his first interception of the year on a diving catch that actually had a pretty high degree of difficulty.  Any interception by Ike is cause for celebration, but a diving interception is cause for a party in "the Burgh".  Light the fireworks!  Release the pigeons!!
We're not going to mention the fact that Troy Polamalu has 7 interceptions.  Or that seldom-used backup safety Tyrone Carter already has an interception.  Or that linebacker LaMarr Woodley has as many picks as Ike.  Or that fellow sackmaster James Harrison also has as many picks as Ike.  Moreover, we're not going to mention that backup linebacker Lawrence Timmons also has the same number of interceptions as Ike.  Nope, we're not going to mention any of that.  We're just going to let Ike have his moment in the sun.
Savor this moment.  Afterall, seeing an Ike Taylor interception is about as rare as…..well, seeing a unicorn.  There are even those who put Ike Taylor interceptions into the same mythical category as unicorns.  But this Sunday, Ike proved them wrong.  The Loch Ness Monster may not exist.  Bigfoot may be an urban legend.  but Ike Taylor interceptions really do happen.
Ike may not catch another interception before the end of the season (or the end of the decade for that matter).  But as long as he keeps running stride-for-stride with the best receivers in the league, we want him lining up for the black and gold.  In fact, we wouldn't trade him for any other cornerback.
We all know what we get with Ike Taylor.  Ike is paid to shadow the league's best receivers and defense passes.  Nobody expects him to intercept the ball.  An occasional interception is just icing on the cake.  Way to go, Ike!
(If you enjoyed this article, please consider leaving a comment below. Also, please subscribe to our blog by pressing the orange button below. Thanks.)
Subscribe in a reader