We have a special guest blogger today.  Steelers Today welcomes Patrick Cartwright, one of our regular readers, and our resident haiku guru.  Patrick is sharing his keys to the upcoming Steelers-Chargers game.  Take it away, Patrick.
Five Keys to the Steelers-Chargers Game
By Patrick Cartwright
1.  Where is Ben Roethlisberger's head
Despite multiple reports out of Pittsburgh assuring the public that Ben will be ready to go for the playoff game against the Chargers, you have to wonder just how concussion-free he'll be when he takes the field on Sunday.  It's certainly a positive sign that the doctors cleared him to play, and that he'll now practice with the team all week.  One of my biggest fears entering this week (other than the possibility of Ben not being cleared by the doctors to play) was that he would not participate in practice during the week.  We've seen this season how much difference a week of practice makes; when he was taking off practice to rest his sore shoulder, he was not the same quarterback.   Throws were mis-timed, he wasn't on the same page as his receivers, and he was much more prone to throwing bad interceptions and fumbling.  For all his talent, he's a quarterback who needs to throw during the week to be effective.
If Ben is still feeling the effects of his noggin bouncing off the Heinz Field turf like a superball, then it could be a long game for the Steelers.  The last time he had a head injury, it affected him long after the incident.  It doesn't take much for a Steelers fan to recall what happened a few years back.  In that instance, his pre-season motorcycle crash and subsequent head injury affected his play for the entire season.  It took him an entire year to get back into form.  If Big Ben's head isn't right, I can easily see something along the lines of a 3 INT game.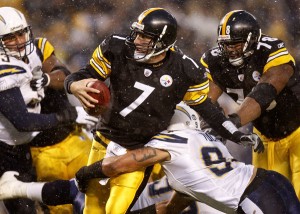 If, however, Big Ben is really a-ok, concussion-free, and ready to go, then I see him lighting up the Chargers to the tune of 250 yards and 2 TD's.  Call it a hunch, buy you only need to look at how he performed in the San Diego game earlier this season to understand my reasoning.
2.  Penalty Yards and the Refs Who Love Them
When the Steelers played the Chargers earlier this season, there were 15 penalties called.  Two of those were on the Chargers, for a grand total of 5 yards.  The Steelers were called penalized thirteen times for 115 yards.  This represents the largest disparity between both fouls called and penalty yardage between two teams in a single game this year.  Even more outrageous is that James Harrison was held on nearly every play, and there was not a single holding call against the Chargers all game.  This was also the game, you might remember, where a phantom "illegal forward pass" negated Troy Polamalu's fumble recovery for a touchdown.  The ref for that game was Scott Green, an official who was described by former NFL commisioner Paul Tagliabue as having committed "the most disappointing officiating blunder he'd ever seen in his years as NFL commissioner" referencing another blown call in the 2003 playoffs.  Yet, he's considered one of the best back judges in the league.  Interesting.
Now maybe I shouldn't be too hard on the officials.  Ed Hochuli, who in my opinion is one of the best in the game, blew a call earlier in the year that cost San Diego a win against division rival Denver that (arguably) started their early season freefall.  And I'm not complaining about penalties being called.  The Colts/Chargers game had a ton of penalties, but I felt they were all justified.  And guess what?  That crew CALLED HOLDING.  (Sorry, that just drives me nuts that it isn't called more on Steelers' opponents).  Really, all I want is a good performance from the officiating crew.  Call what needs to be called, but be fair and equal in your judgment.  There is absolutely no reason the calls should be 13-2 against any team.  In fact, if we could see that not just for this game, but for the entire playoffs, it would be a welcome change.  I'm sure any fan of the NFL would agree.
3.  Let's Play a Game Called "Who's Healthy?"
By the end of an NFL season, there are usually numerous injuries to every team.  The main questions heading into the postseason is 1) "Who is injured", and 2) "How badly"?
On the Steelers side of the ball, James Harrison went down a few weeks ago with a "hip pointer".  After three weeks, we'd hope that he'd be at 100%, but that is one of those injuries, like turf toe or the dreaded high ankle sprain, that can bother a player to the point where their performance is seriously affected.  While all indications seem to be that the Defensive Player of the Year is going to be healthy and raring to go, you just never know about these things.  Brett Keisel has had problems.  So has Aaron Smith.  Both are now healthy, and Steelers fans hope it stays that way.
Fortunately for the Steelers, the Chargers are currently dealing with much worse injury problems.  Running back, and perennial #1 fantasy pick, LaDainian Tomlinson is probably not going to be able to play.  Antonio Gates has what has been described as "Keyzer Sose foot".  And Shawn "I'm not Irish so I don't spell it Sean" Merriman has been out for the season.  If you had to rank the five best players on the team, those three would be on the list.  This bodes well for the Steelers.
4.  Home Field Advantage
The Steelers are 6-3 all-time against the Chargers.  Since 1994, they are 5-0 in the playoffs when coming off a bye.  San Diego is sunny and warm.  Pittsburgh will be approximately negative three hundred and forty degrees on Sunday (with the wind chill) and it's only going to get colder as the sun goes down.  Playoff game in Pittsburgh.  Terrible Towels waving.  Crowd noise off the charts.  It's going to be fun.
5.  We Want Philly! (Rivers)
Philip Rivers had the best QB rating of anyone in the league this year.  No arguing, he had a big year.  The Big Ben/Eli Manning/Philip Rivers comparisons will now never end.  Regardless, the Steelers defense took that big 105.5 passer rating down a few pegs, as he threw 2 INT's, didn't top 200 yards, and finished he game with a paltry 44.4 passer rating, his lowest of the year.  If the Steelers' defense can make him play the way he did in the game earlier this year, then the Steelers can win this game and win it big.  If, however, Rivers plays the way he has most of the season, then it could be a long day for the Steelers.  With his primary target, tight end Antonio Gates, on a bad leg, the Steelers should be able to harass Rivers all day.
Something to watch is the screen pass to Darren Sproles, who is filling in for Tomlinson.  Sproles is small and fast, a terrible combination for defenses because sometimes defensive backs and linebackers can't see small guys over the linemen.  By the time they pick up the runner, he might already be past them.  If Sproles catches a screen pass in space, look out.  The guy has wheels.  But if the Steelers are smart and look for the screen early, keep on their receivers, and pester Rivers, this could be a long, long game for the San Diego offense.
(If you enjoyed this article, please consider leaving a comment below. Also, please subscribe to our blog by pressing the orange button below. Thanks.)
Subscribe in a reader