We all know that Steeler Nation is the best group of fans in America.  We are loud, proud, and ubiquitous.  Steeler Nation stands behind our beloved Steelers regardless of whether they win or lose.
I'd like to challenge my readers to show the world how powerful Steeler Nation truly is by participating in Chunky Soup's Click For Cans promotion.  All you have to do is vote for the Steelers.  The Steelers have made it to the Click For Cans playoffs, and I'd like to see the Steelers win the Click For Cans championship, just like they're going to win the Super Bowl in real life.
Campbell's Chunky Soup will donate 18,000 cans of soup to a food bank in the winning city.  So not only do we get to support the Steelers, but we also get to help those who are less fortunate than ourselves.
Voting for the semi-finals ends tomorrow (1/15/09), and the Steelers actually trail the Buffalo Bills by a significant margin.  That's right, the Buffalo Bills. Are we going to let that happen? So please help me sound the alarm and bring those cans of soup to the food banks of Pittsburgh.
Please click here to vote:  Chunky Soup Click For Cans Promotion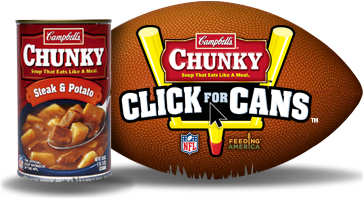 I'd like to give special recognition to our friends at 5 Golden Rings.  They have been supporting Click For Cans all season long, and have asked for our support in their effort.  We are happy to support such a worthy cause, and we ask all of our readers to visit 5 Golden Rings and check out their great Steelers content.  You'll be glad you did.
(If you enjoyed this article, please consider leaving a comment below. Also, please subscribe to our blog by pressing the orange button below. Thanks.)
Subscribe in a reader