August 3, 2009
By Donald Starver
Today marked the fourth day of the Steelers 2009 training camp.  The crowd was blessed with great weather, and things are starting to get heated on the field.
The competition between the offense and the defense is starting to show, and several fights broke out today.  There was also some non-fight related contact that was harder than necessary.
A couple of players are starting to stand out to me.  They are:
Mike Wallace – This kid is a player.  He has caught passes along the sideline, made sliding catches, and beaten everybody deep (more than once).  Unless the sun explodes, he is going to make the team.  He may even shock the world and win the #3 receiver position.
Keenan Lewis - He has made nice plays everyday.  He always seems to be near the ball.  He has made a few interceptions, and deflected quite a few passes.
Tyler Grisham – I was the first one to write about this kid.  He probably won't make the team, but if he keeps playing like he is, he may be kept on the practice squad.
David Johnson – Can't catch very well, but he seems to be the most powerful blocker  among the tight ends.
Guys who have played poorly so far include:
Martin Nance – Drops too many passes.  He is in last place among the wide receivers.
Tony Hills – It's hard to believe that this guy was an All-American in college.  He gets dominated far too often.  My new name for him is "Neo".  You'll see why later.
Joe Burnett – He is going to have to show something as a punt returner, because he keeps getting beat and dropping interceptions as a cornerback.
With that said, here are my notes from today's practice.
-Hines Ward is in street clothes again.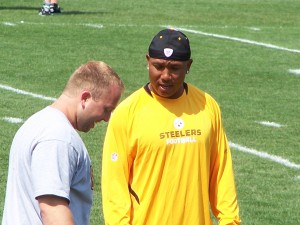 -Team is doing casual drills in their respective units.
3:20PM – Horn sounds and the whole team comes together for team stretching and running.
-Casey Hampton walks through all of the running drills.  He takes a knee and talks during the stretches.  He doesn't even get down with the other players and pretend to be stretching.  He just sat on his knees talking to the coaches.  I think he was afraid that if he layed down to stretch, he wouldn't be able to get back up.
-Big Snack is not the only one who coasts during running and stretching drills.  Big Ben also walks while the other players are running/jogging.  However, he starts before the whistle blows each time, so he always finishes first.
3:31PM – Horn blows.  Team breaks up into offense and defense.  All units split up to work on drills.
-Quarterbacks and wide receivers have been working on LOTS of short outlet passes.  I think they are going to be a much more important part of the offense this year.  They've worked on them everyday so far.
-Dennis Dixon and Mike Reilly both have a very nice spin on their passes.  They throw a tight spiral.
-Big Ben actually throws the wobbliest spiral of any of the quarterbacks.  It's a good thing he has a strong arm.
-Stefan Logan had been on the PUP list, but he is out there practicing today.
-Martin Nance drops his first pass.
-Once again, I'm impressed by WR Steven Black.  He has good size and good hands.
3:52PM – Defense and offense come together again.
-Dallas Baker beats William Gay for a nice reception across the middle.
-Mike Wallace beats Ike Taylor for a 20 yard reception and the crowd cheers.
-Tyler Grisham beats Ryan Mundy for a catch along the sideline.
-Shaun McDonald beats Ike Taylor across the middle, and Taylor pushes him to the ground HARD.  I don't think Taylor liked getting beat.
-Mike Wallace beats Roy Lewis and Joe Burnett for a long pass.  He has 4 steps on both of them, and he would have had more if the ball hadn't been under-thrown.
-Mike Reilly over-throws Limas Sweed on a long pass.  Limas could have had it, but he didn't even put his hands up.
-Another wide open catch by Mike Wallace.  Is he THAT fast, or are the DBs that slow?
-Limas Sweed catches a pass from Big Ben and the crowd breathes a sigh of relief.
4:02 PM – Horn blows and offense & defense meet at the 20 yard line.
-1st team offense and 1st team defense take the field.
-Limas Sweed catches first pass.  A short out pass outlet pass from Big Ben.
-Dezmond Sherrod dives for a pass but drops it.
-Big Ben throws a pass that is almost intercepted by Anthony Madison.  The WR must have run the wrong route, because there was no WR in the area.
-Charlie Batch takes over and completes first pass to Martin Nance.
-Brandon Williams catches a short pass, but then puts a nice spin move on Joe Burnett that gains him an extra 10 yards.
-Keenan Lewis deflects a pass along the sidelines.
-Mike Wallace makes a nice sliding catch.
-Ryan Clark intercepts Charlie Batch's pass across the middle.
-The Horn blows.
-Keiwan Ratliff, Joe Burnett, Shaun McDonald, Stefan Logan, Mewelde Moore and Santonio Holmes field punts.
-Isaac Redman wrestles Lawrence Timmons to the ground in a blocking drill.
-Andrew Schantz gets beat badly on a special teams blocking drill and gets yelled at by coaches.
-Tyler Grisham delivers a hard blow on Roy Lewis in a blocking drill.  Lewis meets him after the play and pats him on the butt.
-4:25 PM – 1st team offense and defense take the field again.
-James Farrior is in Ben Roethlisberger's face in a nanosecond.  If this were full contact, it would have been a sack.
-Willie Parker beats Lawrence Timmons on an out pattern and actually catches the ball.  The crowd goes wild.  (Note to those of you who are unaware: Willie Parker can't catch).
-Rashard Mendenhall breaks a long run and the crowd cheers.
-Rookie safety Derrick Richardson dives to break up a pass to Martin Nance.  The crowd cheers.
-Dennis Dixon goes right back to Nance for a completion.
-Martin Nance drops a short pass from Dixon.
4:33 PM -  Horn blows.  Field goal team practices hurry-up drills.
-Jeff Reed boots a 48 yard field goal in 8-second drill.
-Reed boots a 56 yard field goal right throught the uprights.
4:40 PM – Offense and defense take the field again.
-Ben completes passes to Sweed, Holmes, and Mendenhall.
-Dallas Baker misses a long sideline pass from Roethlisberger.
-Joe Burnett makes a beautiful juggling interception off of Roethlisberger.  I believe that is Burnett's first interception of training camp.
-Shaun McDonald beats Joe Burnett for a short reception.
-Chris Hoke has Tony Hills bent back so far in a blocking drill that it looks like Hills is doing the limbo dance.  The technique is actually effective.  Hoke is so surprised to be dominating a blocker this badly that he falls down.  Coaches take Hills aside and talk to him.
Or perhaps Hills was practicing his bullet dodging technique like Neo in The Matrix.
-Tyrone Carter puts a hard hit on rookie WR Mike Wallace, but Wallace holds onto the ball and the crowd cheers.
4:51 PM – Dennis Dixon takes over.  Dixon completes first pass to Tyler Grisham.  Dixon and Grisham are becoming quite a duo.
-Mike Reilly throws 2 incomplete passes.  He is 0-2.
4:54 PM – Offense and defense take field for 11-on-11 drills.
-Charlie Batch over-throws Shaun McDonald on a long pass.
-Tony Hills gets into a fight with a defender.  I can't see who it is.  Mr. Smith maybe?
-Charlie Batch over-throws Brandon Williams on a long pass.
That is pretty much all that happened in camp today.  If you want to hear about a particular player, leave a comment and let me know.
If you haven't read my recap of Day 2 click here.
If you haven't read my recap of Day 3 click here.
See you guys tomorrow.
(If you enjoyed this article, please consider leaving a comment below. Also, please subscribe to our blog by pressing the orange button below. Thanks.)
Subscribe in a reader