We are well into the second week of Steelers training camp, and I have to admit that it is getting to be a bit boring.  After all, it's just practice.  Also, it is getting HOT.  The team was blessed with great weather for the first week of practice, but this week, the temperatures have risen.  It was over 90 degrees yesterday, and today is supposed to be the same.  Ouch!
Since practice is becoming a bit redundant, I thought I'd talk about something a bit different today.  As I look at all of the fans here at Steelers training camp, I see them wearing lots of different Steelers jerseys.  At a glance, it is very clear that Hines Ward, Ben Roethlisberger, and Troy Polamalu are the most popular Steelers.  Their jerseys are everywhere.  But based on his Super Bowl MVP, Santonio Holmes' popularity has definitely increased.  I see lots of #10 jerseys here at training camp.  James Harrison's popularity has also increased after his NFL Defensive Player of the Year season.  There are lots of #92 jerseys here at camp.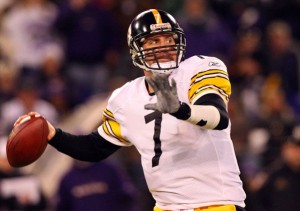 Looking at all of the jerseys got me to thinking about which players Steelers fans like most, and why they like them.  So I decided that it would be interesting to find out by asking my readers.
So my question is:  "Who is your favorite Pittsburgh Steelers player or coach, and why?"
Having been at training camp, I always hear the women screaming at Troy Polamalu.  Not a day goes by that someone doesn't yell, "I love you, Troy".  So if you ladies (or guys) like a particular player because you think he's cute, don't be ashamed to say so.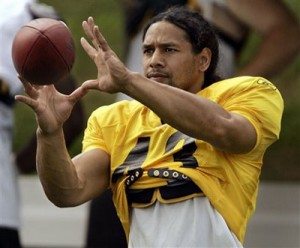 I'd like everyone to start their answer by saying "I like (fill in player's name) because…".  Okay, I'll go first.
I like James Harrison because he is a hard worker.  Harrison got cut by the Steelers several times, but he never gave up.  Now he is a Pro Bowl player, and NFL Defensive Player of the Year, but he still works just as hard as ever.  Also, if there were ever a fight, I would want Harrison on my side. 

I like Aaron Smith because despite his quiet and humble demeanor, he is the best there is at what he does.
I like Tyler Grisham because the Steelers' rookie isn't as big, or as fast, or as talented as most of the other wide receivers in training camp, but he is out there giving 110% everyday.  He's diving for balls and throwing nice blocks.  He probably won't make the team, but he's made a fan out of me.
Okay, those are my picks.  So who do YOU like?  You can pick one player (or coach) or you can choose more than one.  But tell us who you like and why.  Also, don't worry about whether someone else has already picked your favorite players.  Tell us why you like him anyway.  I expect Troy Polamalu to get more than one vote, and he deserves it.
So go ahead and click on the button below to leave a comment.  Then tell us which Steelers player(s) you like and why.  I'll print my favorite responses in an article later in the week.  Let your voices be heard Steeler Nation.
(If you enjoyed this article, please consider leaving a comment below. Also, please subscribe to our blog by pressing the orange button below. Thanks.)
Subscribe in a reader