In the wake of the Steelers' injury-filled game against the Baltimore Ravens on Monday Night, the Steelers were left with just one healthy running back on the roster.
Willie Parker was already injured going into the game. During the game, 1st round draft pick Rashard Mendenhall fractured his shoulder and will be put on injured reserve for the remainder of the season. To make matters even worse, RB Carey Davis sprained his ankle later in the game, leaving the Steelers with only one healthy running back on their roster; Mewelde Moore.
In an attempt to address that problem, the Steelers brought in Najeh Davenport for a workout today. If Davenport passes his physical, it is assumed that the team will sign him to play against the Jacksonville Jaguars this weekend.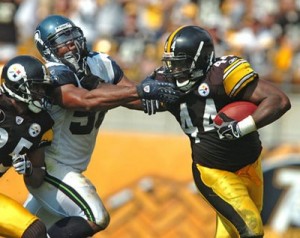 Davenport played the past 2 seasons with the Steelers, but was made expendable when the Steelers drafted Rashard Mendenhall. Davenport was released in June.
Subscribe in a reader