September 9, 2009
By Donald Starver
Try not to hold this against me, but I used to live in Tennessee.  In fact, I lived there for 10 years.  So I have a lot of friends in Tennessee.
One question that I get asked repeatedly by Tennesseans is "What's the big deal with the Terrible Towel?  Why do Steelers fans get so upset about the Titans players stepping on it?  After all, it's only a towel, right?"
My first reaction was to say, "It's a 'Burgh thing.  You wouldn't understand."  But that wouldn't be fair to them, or to the Terrible Towel.
I can actually see their point.  To the uninformed observer who comprehends things in only the most simplistic fashion, the Terrible Towel IS only a towel.
But more enlightened individuals understand that the Terrible Towel is "only a towel" in the same way that the Grateful Dead is "only" a band, or that Lassie is "only" a dog, or that Old Glory is "only" a 3-colored cloth.
The Terrible Towel is more than just a towel.  Far more.
To some, the Terrible Towel is a coat of arms.  It's the symbol of a people; the global Steeler Nation.  Regardless of whether we live in Western Pennsylvania, or we're part of the great Pittsburgh diaspora, or we've just chosen the Steelers as the team that we cheer for, the Terrible Towel identifies us.  When we invade opponents' stadiums (as only Steeler Nation can do), our ubiquitous gold towels announce our presence with authority.  Opposing fans look around and realize that their stadium has been conquered, just as surely as their team is being conquered on the field.
To some, the Terrible Towel is a physical representation of the bond between a city and it's sports team.  Back in the 70′s, when the Japanese were blitzkrieging the American steel industry, Pittsburgh was the city that was hit the hardest.  Steel mills were shut down, jobs were lost, and morale was low.  But just when Pittsburgh was at it's lowest, it's football team reached its pinnacle.  The Steelers won 4 Super Bowls and gave an otherwise downtrodden population something to cheer about.  A symbiotic relationship was formed between a city and its football team that is unlike any other in American sports.  The essence of that bond is embodied in the Terrible Towel.
And lastly, the Terrible Towel is a source of great power.  When Terrible Towels are waved, a metaphysical transfer of energy occurs.  The passion and faith of Steeler Nation is funneled through our Terrible Towels and rejuvenates the Steelers players on the field.  Whether we're at Heinz Field, or gathered in sports bars, or watching on our televisions at home, when we wave our Terrible Towels the Steelers can feel it, and they draw strength from it.
When a Steelers fan in Los Angeles waves his Terrible Towel, Hines Ward makes a catch that he would have missed otherwise.  When a Steelers fan in Texas waves his Terrible Towel, Big Ben sidesteps a potential sack.  And when the multitude of Steelers fans in Pittsburgh wave their Terrible Towels, James Harrison overpowers a much bigger left tackle and sacks the opposing quarterback.  Many games have been decided by Steelers fans waving their Terrible Towels.
So my friends in Tennessee, I hope that you now understand.  The Terrible Towel is more than just a towel.  More importantly, stomping on it is something that you JUST DON'T DO.
All actions have consequences.  The Tennessee Titans are going to experience the consequence of their actions on Thursday when they face the Steelers at Heinz Field.  Behold the power of the Towel.
Editor's note:  Many readers have written to point out that we failed to mention the late, great Myrone Cope in this article.  As I wrote the article, I didn't feel that the Cope storyline helped the story that I was trying to craft, so I excluded it.  However, Cope's role in inventing the Terrible Towel, and in donating the proceeds from it to charity will never be forgotten by Steeler Nation.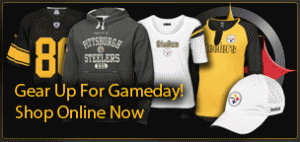 (If you enjoyed this article, please consider leaving a comment below. Also, please subscribe to our blog by pressing the orange button below. You can also follow us on Facebook or Twitter by clicking the doohickies at the bottom of the right column of this page.  Thanks.)
Subscribe in a reader