We had lots of excellent entries in the first Steelers haiku contest of the new season.  The game against the Titans had lots of drama, and various storylines to draw from.  There was Troy's injury.  The Titans' stomping of the Terrible Towel.  The Steelers struggles in the running game.  Big Ben's passing heroics.  And many more.
The rules were rather open-ended.  The writer had to write a haiku that described the Steelers' game against the Titans.  The haiku had to follow the official format of a haiku.  For those of you who are not aware, a haiku is a poem with 3 lines.  The first line must have 5 syllables, the second line must have 7 syllables, and the third line must have 5 syllables.
So without further ado, here are this week's winners:
3rd Place:  Hudy
I soiled myself
In section five thirty one
Holy crap! We won!
I loved the way this one captured the emotion of the game. 
2nd Place: Ken
Thirty-six rush yards
These ain't your daddy's Steelers
Throw to win, Big Ben!
I really liked the way this one captured the struggles in the running game, Big Ben's heroics, and also brought in a historical perspective.  Very creative.
1st Place: Leonard Riddle Jr.
Ben, at the finish,
said, "Get my hat and spinach;
I am what I am."
The creativity in this one was incredible.  I'm an old Popeye fan, so I just loved the reference to my favorite spinach eating cartoon.  Great job Leonard.  You are this week's winner.
Thanks to everyone who participated.  I can't wait to see next week's entries.
Here we go Steelers, here we go!!!!!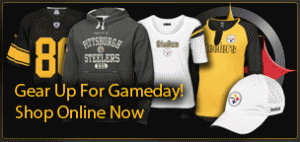 (If you enjoyed this article, please consider leaving a comment below. Also, please subscribe to our blog by pressing the orange button below. You can also follow us on Facebook or Twitter by clicking the doohickies at the bottom of the right column of this page.  Thanks.)
Subscribe in a reader