September 20, 2009
By Patrick Cartwright
I don't want to alarm anyone, but my wife is a Chicago Bears fan.   She grew up in the Chicago suburb of Naperville and, with the exception of her college years, has never lived somewhere that cannot be considered the area locally known as "Chicagoland".  So when it comes to team allegiances, she picks her hometown and sticks by it.
That is not to say she roots against the Steelers.  You see, Mrs. Cartwright does not care for sports like I do.  While she counts herself among the fandom of such teams as the Chicago Bears, Cubs, Hawks, Sox, and Bulls, her happiness is almost never contingent upon whether or not one of these teams wins or loses.
She wants them to win because they're the local team, and she loves the city of Chicago with all her heart.  So when we started dating, and even more so now that we're married, she was a bit taken aback with my passion, or fervor, or in her words, "insanity".
She quickly learned that the better my teams fared, the better my mood became and vice versa.  Granted, the storm cloud that hangs over my head after a bad loss usually dissipates within an hour, but even so, sometimes that's a pretty rocky 60 minutes.
And so, because she likes to see me happy (and hates being around me when they lose), she has adopted my teams.  She cheers the Steelers, Penguins, and my college team that will remain nameless.  She does not cheer the Pirates, because I barely cheer the Pirates.
And so, as we go to the game together at Soldier Field on Sunday, I will be wearing the jersey of Steelers Legend Jack Lambert and will carry my Terrible Towel into enemy territory.  My wife will also wear a jersey, a small women's-style jersey that she enjoys because it makes her look "sporty and cute".
So whose name and number will be on her back as she escorts her husband into the throngs of Bears fans?  Brian Urlacher?  Jay Cutler?  Devin Hester?  Nope.  Her jersey is that of the Bears' Punter, Brad Maynard.  And, I might also point out, its autographed.
Why, of all the players on the Bears past and present, did she pick the current punter?  Because he calls in every week to my wife's favorite morning drive radio program (Eric and Kathy) on "Maynard Mondays" to describe his life as an NFL punter and shoot the breeze with the hosts.  He talks about how he and the kicker, Robbie Gould, play Xbox during training camp, and how he's ill-equipped to make a tackle if there is a big run-back.  He's a pretty affable, nice sounding guy who doesn't take himself or his profession too seriously.  So there you go.  My wife's new favorite player. "He's the best place-kick holder in the league," she parrots from some talking head she overheard two years ago while I was watching a game on television.  I have to just smile and shake my head.  You can't argue with logic like that.
A few years ago, I saw that Maynard was having a meet-and-greet at Navy Pier.  So I took my wife and she met him.  She was thrilled to talk to him for 4 minutes, talking the entire time about the radio show.  She never even mentioned football.  And Brad Maynard smiled and laughed, and signed the jersey that as recently as three weeks ago she considered framing, you know, to put in my "Man Cave" that is in the works for our future house.  Why does she think that is a good idea? Because it is the only autographed jersey that we as a family own.  I own one autograph of a Steeler.  It is Jack Lambert's on a football card, and I keep it in an airtight safe 1000 feet underground at an undisclosed location protected by armed guards.
And so this Sunday we will visit Soldier Field for the 2nd time in as many weeks.  Last week we attended the U2 concert that may or may not have ruined the field (or as I call it, made it "Heinz-esque").  However, this time we go to Soldier Field as enemies.  Or, as she would say, "frenemies".  What could possibly go wrong?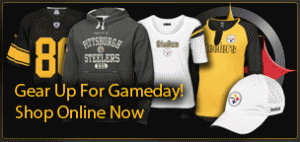 (If you enjoyed this article, please consider leaving a comment below. Also, please subscribe to our blog by pressing the orange button below. You can also follow us on Facebook or Twitter by clicking the doohickies at the bottom of the right column of this page.  Thanks.)
Subscribe in a reader