For the record, I am a big fan of Jim Shearer and the great work that he does on Yinz Luv Da Stillers.  Jim is always entertaining, and I recommend that any of you who haven't checked out Jim's work before, please make a point to visit his site often.
You can find all of Jim's videos at his site on YouTube.  The URL is www.youtube.com/user/YinzLuvDaStillers.
Here is Jim's most recent video on the Steelers' week 2 loss to the Chicago Bears.
Other Steelers news:
Tyrone Carter – Another Steelers safety is battling injuries.  First Troy Polamalu went down, now his backup Tyrone Carter is hurt.  Carter bruised his left thigh during the game against the Bears.  It is unclear whether Carter will be able to play on Sunday, but head coach Mike Tomlin speculated that Carter should be able to practice by tomorrow.  If Carter can't play, Ryan Mundy will probably replace him in the Steelers' starting line-up.
Santonio Holmes – Holmes has had his wrist wrapped since the Bears game.  Holmes indicated that he hurt his wrist while bracing himself when he hit the ground.  Perhaps the wrist injury contributed to Holmes' uncharacteristic drops on Sunday.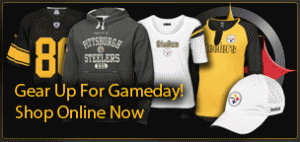 (If you enjoyed this article, please consider leaving a comment below. Also, please subscribe to our blog by pressing the orange button below. You can also follow us on Facebook or Twitter by clicking the doohickies at the bottom of the right column of this page.  Thanks.)
Subscribe in a reader