Before reading this week's key match-ups, please read my Steelers-Bengals Preview.
Each week I look at the key match-ups that will most likely impact the outcome of the game.  As the Steelers prepare to face the Cincinnati Bengals, there are several match-ups that should prove to be interesting.  Here are this week's key match-ups.
Steelers CB Ike Taylor vs. Bengals WR Chad Ochocinco
Chad Ochocinco was once one of the most dangerous receivers in the NFL.  However, he has seen his productivity decline drastically over the past 2 seasons.  With Bengals' QB Carson Palmer finally healthy again, Ochocinco's numbers should improve considerably.
Steelers CB Ike Taylor has always risen to the challenge against Ochocinco.  In fact, it would be fair to say that Taylor owns Ochocinco.  Sorry Chad, but I don't think you'll be doing any celebration leaps into the crowd this week.
Steelers LT Max Starks & LG Chris Kemoeatu vs. Bengals DE Antwan Odom
Bengals defensive end Antwan Odom has been a terror this season.  He leads the NFL in sacks, and had 5 sacks last week against the Green Bay Packers.  That's right, 5 sacks in one game.  That's more sacks than the entire Steelers defense has accumulated this season.
We all know that Ben Roethlisberger holds the ball too long and makes himself susceptible to sacks.  Thus, the pressure will be on left tackle Max Starks and left guard Chris Kemoeatu to keep Odom off of Big Ben. 
Steelers S Tyrone Carter vs. Bengals TE Daniel Coats
It's no secret that Troy Polamalu is out with an injury.  Until Polamalu returns, we can expect opposing offensive coordinators to target Polamalu's replacement Tyrone Carter. 
Last week the Chicago Bears repeatedly threw across the middle to tight end Greg Olsen.  Carter landed some big hits on Olsen (one of which resulted in a $5,000 fine), but a catch by Olsen was a critical play in the Bears' game-winning drive.
Carter has been battling a thigh injury, and if the Steelers have to play 3rd string safety Ryan Mundy, he'll be targeted even more than Carter will be.
Steelers LB James Harrson vs. Bengals LT Andrew Whitworth
James Harrison is probably growing tired of hearing that Bengals DE Antwan Odom has more sacks than the entire Steelers team.  Moreover, he's probably tired of being reminded that he has no sacks this season.  I suspect that Harrison is going to take out his frustration on Whitworth.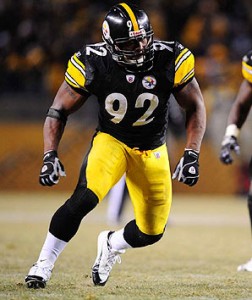 Cincinnati Bengals vs. Streaks
The Steelers have won 8 consecutive games in Cincinnati.  Ben Roethlisberger has never lost in the state of Ohio (versus the Bengals and Browns).  It would appear that history is not on the side of the Bengals.  Lets just hope that the Bengals are a superstitious bunch.
I predict a closer game than we've had in recent years when these two teams have met.  Many national analysts are picking the Bengals to win this game.  However, we at Steelers Today know better.  Look for a 9th consecutive Steelers win in Cincinnati.  Final score:  Steelers 21, Bengals 17.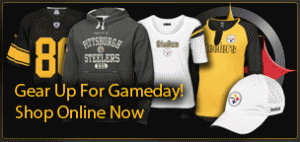 (If you enjoyed this article, please consider leaving a comment below. Also, please subscribe to our blog by pressing the orange button below. You can also follow us on Facebook or Twitter by clicking the doohickies at the bottom of the right column of this page.  Thanks.)
Subscribe in a reader