Well the Steelers beat the Chargers in another cardiac finish.  So it's time for this week's haiku contest.
Each week we hold a haiku contest.  The contest rules are simple.  You must summarize the Steelers-Chargers game in a haiku.  A haiku is  a form of Japanese poetry that contains only 3 lines.  The first line has 5 syllables, the second line has 7 syllables, and the third line has 5 syllables.  Typically, haiku do not rhyme.
Please note, the emphasis is on syllables, not words.  Remember 5/7/5.
Last week I did not hold a haiku contest.  After 2 consecutive losses, I thought the tone of the entries might be too negative.  But now that the Steelers are back to their winning ways, we can continue the contests.
Lenny Riddle sent in this question about the whereabouts of our haiku contest.  The comment is both a question and a perfectly executed haiku.
Steelers have lost two.
Have you lost love for Haiku?
It's still fun to do
So with that as a model, start writing your haiku for the Steelers-Chargers game.  But please remember that although Lenny's haiku above rhymes, most haiku do not rhyme.
Here is one that I put together.  It's not as good as Lenny's, but it will serve as another example of a proper haiku:
Steelers started strong
Twenty eight point lead is blown
Why do they do this?
Okay readers, your turn.  Lets see who can come up with the best haiku about the Steelers-Chargers game.  Are you ready for some haiku?!!
Here we go haiku, here we go!
Other Steelers news
Isaac Redman – As quickly as he was added to the active roster, Isaac Redman has been released.  If he clears waivers, the Steelers will re-sign him to the practice squad.
Nick Eason – The Steelers re-signed defensive end Nick Eason.  Eason had been released to make room for Isaac Redman on the active roster.
Troy Polamalu – Steelers coach Mike Tomlin said that Troy Polamalu would practice on a limited basis this week "to see how he responds to that and go from there".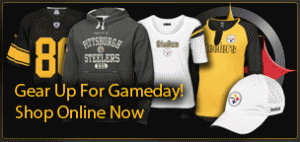 (If you enjoyed this article, please consider leaving a comment below. Also, please subscribe to our blog by pressing the orange button below. You can also follow us on Facebook or Twitter by clicking the doohickies at the bottom of the right column of this page.  Thanks.)
Subscribe in a reader