This is Part 4 of a multi-part series that is intended to identify what went wrong with the Pittsburgh Steelers' 2009 season.
If you haven't read Part 1 yet, please click here. 
To read Part 2, please click here.
To read Part 3, please click here.
We've already discussed three of the reasons for the Steelers' poor showing this season.  Now it's time to discuss the fourth reason.
Factor #4 – Lack of a killer instinct.
I had to think long and hard before writing this one.  I know that many fans are not going to agree with it.  More importantly, some will be offended when they read it.
We all want to envision the Steelers as a dominant team of gladiators clad in black and gold marching off to vanquish their opponents.  But the truth is that the Steelers play more like peaceful diplomats than gladiators.
Many fans have pointed out that the Steelers have just been the victims of bad luck this season.  Most of their games have been very close, and had a few plays gone differently, most of the Steelers' losses could have been wins.  Just think about Joe Burnett's dropped interception against the Browns, or Jeff Reed's missed kicks against the Bears.  Had those plays gone differently, the Steelers would have probably won those games. Their were similar missed plays in all of their losses.
The most  that any opponent has beaten the Steelers by has been 7 points.  That was in the loss to the Cleveland Browns.  The remaining losses have been by less than a touchdown.  Five of the Steelers' seven losses have been by a mere 3 points.  So the Steelers have been close in every one of their losses.  If they could take back a play here or there, the Steelers could easily be 13-0.
The problem with that line of thinking is that the inverse is also true.  If a few plays had gone differently, the Steelers could easily be 0-13.
If we look at all of the Steelers' games this season, the average point differential has been +2.62 points in favor of the Steelers.  That's less than a field goal. 
Do you see the problem with that?  The Steelers don't seem to be able to gain a meaningful point advantage over their opponents.  And that's true, regardless of the caliber of the opponent.  The Steelers seem to play down to the quality of the opponent.  They play the good teams close, and they play the bad teams close.  They don't seem to be able to put opponents away.
Simply put, the Steelers lack a killer instinct.
The Steelers have only won one game this season by more than 2 touchdowns.  The Steelers' offense just doesn't seem to be capable of generating enough points to put opponents away. 
In my opinion, one of the signs of a truly dominant team is that they crush lesser opponents.  When they get an opponent down, they go for the knockout.  The Steelers don't do that. 
Make no mistake, these are not your father's Steelers.  These are the kinder, gentler Steelers.  The offense can't blow anybody out, and the defense can't shut anybody out.
If we look back at the 2007 New England Patriots, they were a truly dominant team.  They went for the jugular.  Their average margin of victory was 19.7 points.  That's almost 3 touchdowns.  Their offense exceeded 30 points in 12 of their 16 regular season games.
Similarly, this season's New Orleans Saints have been completely dominant.  They don't play teams close.  They blow them out.  Their average margin of victory has been 14 points, and they've scored 30+ points in 9 of their 13 games.
Wouldn't you like to see the Steelers do that?  But they can't.  As I mentioned before, their average point differential is 2.62 points.  That's just not good enough.
When  I think about the Steelers teams of the 70, two thinks jump out at me.  Firstly, their offense could score points in bunches.  Secondly, their defense could shut teams out.  This year's team can't do either.
This year's offense generates lots of statistics.  They may end the season with a quarterback who passes for 4,000 yards, a running back who rushes for over 1,000 yards, and two 1,000 yard receivers.  Yet, they can't score points.  So what good are all of the yards?  They don't really dominate anyone, despite the impressive yardage.
The same is true for the defense.  Statistically, they are one of the best defenses in the NFL.  Yet realistically, they can't stop anyone.  They haven't shut out a single team this season.  Moreover, terrible offenses like the Lions, Chiefs, and Raiders have all scored 20+ points on the Steelers defense.
Do you remember when teams used to be afraid to face the Steelers?  They used to know that they were in for a long night.  They knew that the Steelers were going to beat them up physically.  You could see the fear in opponents' eyes.  But that's changed.  Did the Browns look afraid of the Steelers?  Did the Raiders?  Did the Chiefs?  If anything, it was the Steelers who looked intimidated.
The Steelers need to get back to good old-fashioned Steelers football, on both offense and defense.  Right now they don't remind me of the Steelers of old.  Unlike those Steelers teams, this version lacks a killer instinct.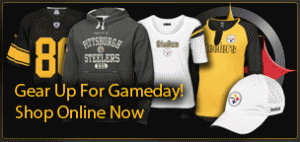 (If you enjoyed this article, please consider leaving a comment below. Also, please subscribe to our blog by pressing the orange button below. You can also follow us on Facebook or Twitter by clicking the doohickies at the bottom of the right column of this page.  Thanks.)
Subscribe in a reader