Now that the season is over, I have time to touch on some subjects that I didn't have time to get to while the Steelers were still playing.
I know that some of you want me to talk about the draft, but we have months until the NFL draft, so there will be plenty of time to deal with that.  Rather, I want to talk about an issue that has bothered me all season.
This has been a very difficult season for Steelers fans.  After winning Super Bowl XLIII, most fans probably thought that 2009 was going to be a very good year for the Steelers.  Most of our players were back, the team had a good draft, and we had a much easier schedule than we had in 2008.  Visions of a repeat championship danced in the heads of Steeler Nation.
And then 2009 actually happened.  Instead of a repeat championship, Troy Polamalu went down with an injury in the very first game.  Then the Steelers lost to the Bears.  And they lost to the Bengals (gasp!).  And they struggled against the Detroit Lions.  And for some reason, the defense seemed to disappear during the 4th quarter of every game.  And then Aaron Smith was lost for the season too.  And then that disastrous 5 game losing streak happened.  Heck, we even lost to the Chiefs, Raiders, and Browns.  Murphy's Law was striking the Steelers with a vengeance.
In the midst of this debacle, Steelers fans started asking questions like "When's Troy coming back?", "What's wrong with the Defense?", and "Where's my heart medicine?"
But as the losses accumulated, the questions turned to emphatic statements.  "We need Troy!"  "William Gay sucks!!"  "Fire Bruce Arians!!!!!"
After each game, fans would analyze what was wrong with their beloved Steelers.  This was to be expected, since most fans expected 2009 to be a very good year for the Steelers.  What wasn't expected was the stream of Steelers apologist who would inevitably enter the conversation with accusations that "a REAL Steelers fan wouldn't criticize the team".  They would denounce those who questioned or criticized the team.  Moreover, they'd usually label them as "bandwagon fans".
I saw this behavior repeated over and over on my own blog, on my Facebook page, and on Steelers message boards throughout the internet.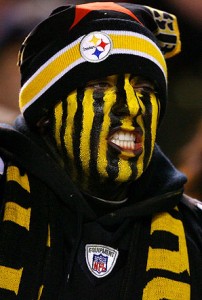 "A REAL Steelers fan wouldn't question the coaches!"  "A REAL Steelers fan trusts the Rooneys!"  "A REAL Steelers fan wouldn't complain about losses!"  "Those of you who complain need to leave Steeler Nation and become Ravens fans!"
I know that I'm going to take grief for saying this, but nobody has the right to tell other Steelers fans how they should behave.  There is no rule book on "How to be a Steelers fan".
The only criterion needed to qualify as a Steelers fan is that you love and root for the Steelers.  How a fan chooses to exercise their fandom is up to them.
The fan who buys season tickets is not necesarily a better fan than the fan who watches the game on TV.  The fan who wears Steelers gear 7 days a week is not necessarily a better fan than the fan who doesn't own a single Steelers item.  The 70 year old fan who has been following the Steelers since before the Chuck Noll era is not necessarily a better fan than the 9 year old fan who has only been following the team for a few years.  The fan who lives in Pittsburgh is not necessarily a better fan than those who live in Texas, or California, or  Georgia, or Alaska.  After all, that's why they call us "Steeler Nation".  Our members reside in every state of the Union.  Moreover, they exist in countries throughout the world.  Calling us Steeler Nation is now inaccurate.  We should actually be called Steelers Planet, because we are located throughout the globe.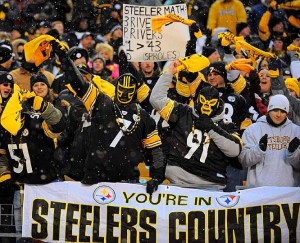 The reason that a fan complains about Bruce Arians play calling is that he thinks the Steelers would have a better chance of winning if they ran the ball more.  The reason a fan complains about the Steelers' draft picks is because they think the team would have a better chance of winning if they had chosen a different player.    The reason that fans complain when the Steelers lose to the Chiefs, or Raiders, or Browns, is because they believe that the Steelers are superior to those teams, and that they SHOULD beat those teams.
The very fact that these fans take the time to analyze the play calling, or to study potential draft picks, proves that they ARE fans.  They care about the team.  They're passionate.  They want to see them do well.
Steelers fans come in all shapes and sizes.  They come in all races and all genders.  Some of them are Democrats and some are Republicans.  Some are Protestants and some are Catholics.  Some are Jews and some are Muslims.  We won't agree on everything, but the one thing that we DO agree on is that we love the Steelers and we want to see them win.
As far as how we express our love…….well, let's just agree to disagree.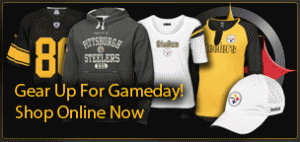 (If you enjoyed this article, please consider leaving a comment below. Also, please subscribe to our blog by pressing the orange button below. You can also follow us on Facebook or Twitter by clicking the doohickies at the bottom of the right column of this page.  Thanks.)
Subscribe in a reader