After the Steelers fired former special teams coach Bob Ligashesky, many believed that former Steelers special teams coach Bob April might replace him.  April had opted out of the final year of his contract with the Buffalo Bills after the Bills informed their entire coaching staff that they should begin searching for new jobs.
April, who coached the Steelers special teams from 1994 – 1995 is considered to be one of the best special teams coaches in the NFL.
Most observers thought that the Steelers and the Washington Redskins had the inside track on obtaining April's services.  However, the Philadelphia Eagles quietly slipped in and stole April away from his other suitors.
The Steelers are interviewing San Francisco 49ers special teams coordinator Al Everest today for their still vacant position.
Other Steelers coaching moves
The Steelers did land another former Buffalo Bills coach.  Sean Kugler has been hired as the Steelers new offensive line coach, replacing Larry Zierlein.
Steelers linebackers coach Keith Butler turned down the defensive coordinator job that had been offered to him by the Miami Dolphins.  Many believe that Butler is the heir apparent whenever current Steelers defensive coordinator Dick LeBeau decides to retire.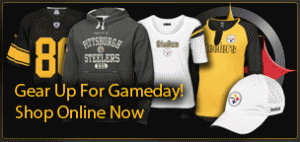 (If you enjoyed this article, please consider leaving a comment below. Also, please subscribe to our blog by pressing the orange button below. You can also follow us on Facebook or Twitter by clicking the doohickies at the bottom of the right column of this page.  Thanks.)
Subscribe in a reader