This is part 5 in a series evaluating the Steelers' off-season needs.  So far, we've looked at the cornerbacks,  safeties, and linebackers, and  defensive linemen.  The next position that we're going to look at is the offensive line.
Despite constant claims to the contrary by Steelers fans, the Steelers offensive line is not as bad as most people think.  I know that that statement is going to sound odd to some readers.  It has long been taken as a fact that the Steelers' offensive line is terrible.  But I beg to differ.
I must preface the rest of my argument by stating that it is impossible to determine who is actually responsible for a sack.  People will try, but it is impossible to do.  Sometimes an offensive lineman gets beat.  Sometimes someone misses a blocking assignment or blitz pickup.  And sometimes the quarterback merely holds onto the ball too long and no offensive line in the world could possibly keep him safe.
Unfortunately, the latter situation is usually the case with Big Ben.  He holds onto the ball too long.  And no offensive line is going to be able to protect him so long as he continues to do that.  Defensive linemen are just too good.  You can't give them 5 seconds or more, or they are going to get to the quarterback.
Ben Roethlisberger has been a model of consistency throughout his career.  He has always held onto the ball too long.  Even during his rookie season, when Bill Cowher barely trusted him to throw the ball.
Big Ben gets sacked on approximately 10% of his pass attempts.  That is not due to the current offensive linemen.  That is just Big Ben.  During his first year as the Steelers quarterback, when Cowher only allowed him to make 295 pass attempts, Ben was sacked on 10.2% of his pass attempt.  Last year, Ben was sacked on 9.98% of his pass attempts.  During Ben's first three seasons, he played behind pro bowl caliber offensive linemen Marvel Smith, Alan Faneca, and Jeff Hartings.  Yet, he was sacked 10% of the time.  In fact, Ben's worst statistical season occurred in Faneca and Smith's last season with the Steelers.  In that season, Roethlisberger was sacked on 11.6% of his pass attempts.
Roethlisberger is extraordinarily consistent (in a bad way).  He consistently holds onto the ball too long, and he consistently gets sacked 10% of the time, regardless of who is blocking for him.  Contrarily, during the same period of time, Peyton Manning has gotten sacked on 2% of his pass attempts.  He has attempted 737 more regular season passes than Roethlisberger during that time, yet managed to be sacked 89 fewer times.
Even if you agree that Roethlisberger is partially responsible for his high sack totals, some would argue that the Steelers offensive line is poor in short yardage running situations.  I'd agree and disagree with that point.
There have been situations where the Steelers haven't been able to get short yardage on the ground.  But part of that is because Bruce Arians often runs those plays with no lead blocker.  Willie Parker has complained about that since Dan Kreider was let go.  Also, too many Steelers fans got used to seeing a guy wearing #36 gaining short yardage in difficult situations.  But there aren't many backs who can do what Jerome Bettis used to do.  It's time for fans to realize that nobody else is going to be like "the Bus".  He was one of a kind.
The bigger problem with the Steelers' running game is their failure to commit to it.  I remember one game this past season where Rashard Mendenhall averaged 7 yards per carry in the first half and hardly touched the ball in the second half.  That's Bruce Arians' fault, not the offensive line's.  Until Arians learns that passing the ball is not the solution to every problem, the Steelers' running game will always falter.
But having said that, I am not trying to imply that the Steelers offensive line is perfect.  They are not.  All of the Steelers' starting offensive linemen (with the exception of Trai Essex) are big road graders who are more suited to run blocking than to pass protection.  Yet Bruce Arians has transformed the Steelers into a passing team.  So he isn't playing to the offensive line's greatest strengths.
Run blocking is about pushing forward.  Pass blocking is about moving backwards.  They're two entirely different skill sets, and few offensive linemen excel at both.
In my opinion, left tackle Max Starks' feet are not quick enough for him to excel in pass protection against elite pass rushers.  Does anyone else remember Green Bay's Clay Matthews running past Starks as though Max's shoes were made of concrete?  I've always felt that Stark's best position was right tackle, not left tackle.
Left guard Chris Kemoeatu has come a long way.  Before injury ended his season, he was emerging as a very dependable player.  In his earlier years, Kemoeatu was a penalty waiting to happen.  You could count on him to hold or jump off-sides a couple of times per game.  But he seems to have put that behind him.  Now Kemoeatu is a massive offensive lineman who can match up favorably against just about anybody.
Center Justin Hartwig is the unsung hero of the offensive line.  He is the model of quiet consistency.  When he replaced Sean Mahan (Boo!!!!!) at center, Roethlisberger went from being sacked on 11.6% of his pass attempts to being sacked on 9.8%.  That's still too many, but it is a big improvement, and is probably as low as we can expect with Big Ben.
Right guard Trai Essex is a career backup who only started due to injuries.  He needs to be replaced immediately.  Enough said about that.
Right tackle Willie Colon is a big, tough, S.O.B.  I love his physical skills.  If you've ever seen him up-close, you know that he has the most massive calf muscles that I've ever seen on a human being.  He is a prototype road grader.  Run blocking is his strength.  Pass blocking is not.  I've always argued that Colon is best suited to play right guard.  But the Steelers coaches obviously don't agree with me, so I don't expect to see him at guard this season.
The Steelers' backup offensive linemen don't instill a lot of confidence in me.  I thought Ramon Foster did very well for an undrafted free agent who was thrown into a starting role.  That kid is going to be good.  But I am concerned that he was able to beat out Kraig Urbik, who the Steelers drafted to compete for a starting position at guard.  I saw absolutely nothing from Urbik at training camp, and apparently, the Steelers coaches thought the same.  And Tony Hills isn't even worth wasting ink to write about.
What  should the Steelers do?
The Steelers need a right guard to replace Trai Essex.  Perhaps Kraig Urbik will emerge as that player.  But I haven't seen any signs of that so far. 
They could also use a more mobile left tackle.  If by some miracle, a left tackle with quick feet were to drop to them, they should definitely consider taking him.
Finally, Justin Hartwig is 31 years old, and is coming to the end of his career.  The Steelers need to draft an eventual replacement for him.  I don't see Doug Legursky ever becoming a starter.
I think that drafting an offensive lineman in the first round is a very real possibility for the Steelers.  If they do that, there are a few players that we should be considering.
Left tackle is the offensive line position that has the highest value, so let's look at  the left tackles first.  Unless the Steelers trade up, Oklahoma State's Russell Okung, Oklahoma's Trent Williams, and Rutgers' Anthony Davis will all be off the board when pick #18 rolls around.  But there is a possiblity that one of the following tackles could become a Steeler.
Bryan Bulaga (Iowa) – Bulaga is a tough, physical tackle with excellent quickness, but poor technique.  He will have to start at right tackle, but he has the physical skills to eventually move to left tackle once he has been coached a bit.  He also played guard in college, so he could be used at guard as well.
Bruce Campbell(Maryland) – Campbell may be the most athletic offensive lineman in this draft.  However, like Bryan Bulaga, Campbell is raw and will need coaching.  Also, Campbell sometimes plays too much like a finesse player, rather than bullying people like a guy his size should.
Guard is not a position that is often taken in the first round.  However, there is a player who is definitely worthy of being taken in the first round.  Moreover, he is the player that most mock drafts have the Steelers taking.  That player is….
Mike Iupati (Idaho) – Iupati is a big, dominant left guard.  He's 6'5″, 325 lbs., and he has the athletic ability to eventually convert to right or even left tackle.  Most experts believe Iupati is a potential pro bowl guard.
Center is another position that is seldom taken in the first round.  But one center is certainly on the Steelers' radar.  That player is….
Maurkice Pouncey(Florida) – Pouncey is a big, strong, mauler who should be able to handle the massive nose tackles that are so prominent in the AFC North.  He also started 11 games at guard in college, so he has the position flexibility that Mike Tomlin prefers in his offensive linemen.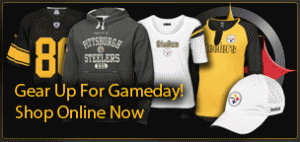 (If you enjoyed this article, please consider leaving a comment below. Also, please subscribe to our blog by pressing the orange button below. You can also follow us on Facebook or Twitter by clicking the doohickies at the bottom of the right column of this page.  Thanks.)
Subscribe in a reader