Many Steelers fans are already thinking pessimistically about the Steelers' 2010 season.  I hear all of the usual excuses.  I'm sure that you've heard them too.  Here are a few of them:
"Big Ben is going to miss the first 4-6 games."
"The defensive line is too old."
"The offensive line was already weak, and now Willie Colon is out for the entire season."
"The defensive backs suck!"
"We can't run the ball effectively."
"The team was 9-7 and missed the playoffs last year."
Blah, blah, blah.  Yada, yada, yada.  I'm sick of all of the pessimism.  Maybe it's just me, but I'm actually optimistic about the Steelers' chances in 2010.
Here are 10 reasons why I am optimistic about the Steelers' 2010 season:
1.  Troy Polamalu is back
I think the 2009 season showed us just how important Troy is to the Steelers' defense.  Troy wasn't healthy last year, and the defense suffered.  All indications are that "The Tasmanian Devil" is feeling great this year, and the rest of the NFL had better watch out.
2.  Byron Leftwich
If Big Ben has to miss games due to suspension, I am mighty glad that we have Byron Leftwich waiting in the wings to take his place while he is out.  Some fans may have forgotten that Byron is a former franchise quarterback who was selected just one year ahead of Big Ben.  In fact, he was drafted higher than Ben was (#7 versus #11).  Does anyone else remember how tough those games against Leftwich's Jacksonville teams used to be?
3.  "Hines Ward is too old"
Every year they say that Hines Ward is too old.  And every year, Ward uses that as motivation to come into training camp in even better shape to prove everybody wrong.  Ward's game has never relied on speed or jumping ability, so he won't be as affected by age as players like Terrell Owens or Randy Moss might be.  But I hope people keep telling Ward that he's too old.
4.  The re-emphasis of the running game
Don't get me wrong.  I love the Steelers new passing attack.  However, I also want to see them be more effective in the running game.  I got tired of seeing the Steelers get stopped when they tried to run the ball in "3rd and 1″ situations.  I think that the Rooney's ultimatum that the team re-emphasize the run will help the team in two ways.  firstly, it will ease the pain of not having Big Ben.  Secondly, it will resurrect a tough, physical attitude that the offense seemed to be lacking last season.  Frankly, it doesn't seem feasible that a team with Rashard Mendenhall, Isaac Redman, Frank Summers, and Jonathan Dwyer, can't run the ball in short yardage situations.

5.  William Gay won't be starting
As a starting cornerback, William Gay has to be one of the worst that I've seen wearing a Steelers uniform.  And if God is merciful, he will make sure that Gay is not a starter this year.  Hallelujah!
6.  Mike Wallace should get more opportunities
I've said it since last year in training camp; "I love Mike Wallace".  The average cornerback just doesn't stand a chance against him.  I loved seeing him burn cornerbacks for long touchdowns last year.  And now that Santonio Holmes is gone, Wallace should get even more opportunities.  Oh yeah!!!!
7.  Aaron Smith is back
Aaron Smith is possibly the most under-appreciated defensive end in the entire NFL.  He is one of the best at what he does, and he gets little credit for it.  Well Aaron, I am giving you the credit that you deserve.  I am soooooooo happy to have you back this season.
8.  Maurkice Pouncey
It was so good to see the Steelers take an offensive lineman early in the draft.
9.  LaMarr Woodley is more experienced
Last year, LaMarr Woodley quietly emerged as the best player on the Steelers' defense.  This year, he is more experienced and should be even better.
10.  Did I mention that Troy Polamalu is back?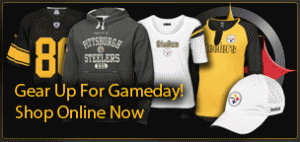 (If you enjoyed this article, please consider leaving a comment below. Also, please subscribe to our blog by pressing the orange button below. You can also follow us on Facebook or Twitter by clicking the doohickies at the bottom of the right column of this page.  Thanks.)
Subscribe in a reader