Each year, the Pittsburgh Steelers hold one night practice during training camp. Ordinarily, practices during training camp happen during the day. But the night practice is an exception, and it allows people who might not be able to take off work to go to training camp an opportunity to see the team practice. The night practice is held at Latrobe Memorial Stadium. This year's night practice took place last night.
To be completely honest, the night practice is usually fairly uneventful from an on-field standpoint. Sometimes the team will do a goal-line drill that might elicit a few "oohs" and "ahhhs", but for the most part, it is just another practice.
Despite this, I love going to the night practice.  Unlike the regular daytime sessions during training camp, the night practice feels more like an actual Steelers game.  There is simply a different feel.  It's a bit more electric.
The night practice seems to be the single event during all of training camp that is most dedicated tot he fans.  From the police escort that accompanies the team buses as they arrive, to the fireworks show that closes out the event, the night practice is the climax of Steelers training camp, in my opinion.
There also seems to be a greater camaraderie among fans at the night practice than there is at the regular day sessions during training camp.  I always meet lots of great Steelers fans at the night practice, like my new friend below who made me promise that I wouldn't put her picture on the internet.
But the one element that is most noteworthy is the clear attempt by the team to give fans an opportunity to meet and greet with the players.  The opportunities to get autographs are far greater than at any other time during training camp.  If I were a fan who had never been to a Steelers Training Camp before, I would definitely choose the annual night practice as the day that I would choose to attend.
There is an old saying that a picture is worth a thousand words.  So here is what makes the annual Night Practice so special.
The Steelers make a special effort to make sure that all of the players are accessible to fans at the night practice.  Anyone who wants an autograph can usually get one.  It is not uncommon to leave the Night Practice with 20 or more autographs.  If you're lucky, you may even get an autograph from a Hall-of-Famer.
Besides being a great event, the night practice is also a fundraiser for the Latrobe High School football team.  So it's a great time, and it also serves a good purpose.
Worth noting
Rookie running back Jonathan Dwyer is finally recovered from a hamstring pull that has kept him out of practice for much of training camp.  His running was on display last night.  He looked good.
Punter Dan Sepulveda did kickoffs last night.  This is the first time that I've seen Sepulveda handle all of the kickoff duty.  He looked good.  His kicks had good distance and hang time.
Troy Polamalu did not practice last night.  Nevertheless, he had a huge ice pack on his knee at the end of practice.  I hope he wasn't feeling any soreness.
Special Thanks
I want to take a moment to acknowledge Ziggy Hood.  Anyone who has been to training camp knows that Ziggy Hood is an absolute joy to be around.  He always has a smile and a word of greeting for any fan who happens to call him.  I have never seen him refuse to sign an autograph.  He signs more autographs than any other player that I have seen.  But Mike Wallace also deserves recognition.  He is not as friendly as Ziggy, but he is always extremely pleasant, and is very willing to interact with fans and sign autographs.  Thanks guys.  You may not think it's a big deal, but what you do really means a lot to Steelers fans.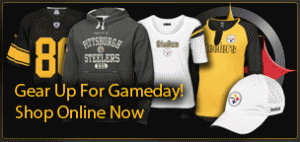 (If you enjoyed this article, please consider leaving a comment by clicking on the square at the top right of this article. Also, please subscribe to our blog by pressing the orange button below. You can also follow us on Twitter by clicking the bird doohicky below. Also consider following us on Facebook. Thanks.)
Subscribe in a reader