Now that the Steelers are halfway through their preseason schedule, a very obvious question is emerging; the age question.
The age question is simply this; should a team stick with an established veteran who is in the latter stages of his career, or should they give a young player an opportunity to gain experience and prove what he can do?
The age question is as old as sports itself.  And to be honest, there is usually no "right" answer to the question.
The Green Bay Packers faced this question when they had to decide between future Hall-of-Famer Brett Favre and the talented young Aaron Rodgers.
The San Francisco 49ers eventually got to a point where they had to choose between the aging Joe Montana and the heir-apparent, Steve Young.
Through most of the Bill Cowher era, and into the Mike Tomlin era, the Steelers have tended to be a patient bunch.  Young players have not been called upon to perform as rookies.  And the team often stuck with older players when their was a talented younger player waiting in the wings.  A prime example of this was James Harrison.  In my opinion, James Harrison was better than Joey Porter for the final 1.5 years of Porter's tenure with the Steelers.  If you watched him in training camp, it was obvious that Harrison was unstoppable.  Yet, Cowher proved to be very loyal to the veteran Joey Porter.  Once Harrison was finally given his shot, the rest of the NFL got to see what I was seeing in him at practice.  And a star was born.
As we look at the roster battles that are currently taking place with the Steelers, I see quite a few  "youth versus experience" questions arising for the Steelers coaching staff.
The most obvious of these age questions is at quarterback.  Should the Steelers go with the proven veteran, Byron Leftwich, during Ben Roethlisberger's absence, or should they give Dennis Dixon some valuable regular season playing experience?  Quarterback is a crucial position, and most coaches tend to be more comfortable with experienced leadership at the position.  But how is a talented young player like Dennis Dixon supposed to get experience if the coaches won't let him play?
Dixon is making a strong case for himself during the preseason, but despite his best efforts, the coaches may still decided that experience counts  most.
Similar battles are occurring at other positions as well.  Take the defensive line for example.  Aaron Smith and Brett Keisel are both on the wrong side of 30.  The Steelers used a first round draft pick to select Ziggy Hood.  Yet, Ziggy's playing time has been limited because Smith and Keisel are so solid at their positions.  Aaron Smith's injury did give Hood more opportunities to play last year, but even when those opportunities arose, Dick LeBeau often chose to play the more experienced Nick Eason and Travis Kirschke over Ziggy Hood.
The Steelers also have Sunny Harris and Doug Worthington fighting for roster spots on the defensive line.  I've never been a fan of Sunny Harris, but I really like what I've seen from Doug Worthington so far.  Unfortunately, Nick Eason is outplaying Worthington so far in preseason.  Eason is already 30 years old, and it seems unlikely that he'll ever be a starter for the Steelers.  So should the team hold a roster spot for the older veteran, Eason, who likely won't be with the team 2 years from now, or should they hold onto one of the younger players who may become just as good, but who will potentially be with the team for the next 10 years?  With what Worthington has already shown in training camp, and with his Ohio State pedigree, he is unlikely to make it through waivers if the Steelers try to sneak him onto the practice squad.  So it's likely that they will lose him if they don't keep him on the 53-man roster.  And the team already lost Sunny Harris to the Carolina Panthers last year.  Do they want to take the risk of losing him again?
On the offensive line, the Steelers have struggled for years.  And it looks like rookie Maurkice Pouncey is going to be given an opportunity to start.  However, other tough decisions are going to have to be made.  Is Trai Essex that much better than Kraig Urbick or Ramon Foster?  Is Jusin Hartwig that much better than Doug Legursky?
At wide receiver, the Steelers also have major questions.  With the loss of Santonio Holmes, Hines Ward is the only veteran that is guaranteed a roster spot.  Mike Wallace only has one year under his belt, so despite the fact that he had a great season last year, he is still very young and inexperienced.  Rookie Emmanual Sanders has shown enough in training camp and preseason that he is almost assured of a roster spot.  So that's even more inexperience at the position.  In my opinion, Antonio Brown has looked better than Antwaan Randle El at training camp and in the preseason.  But can the team afford to have him ahead of Randle El since they already have so much youth at the wide receiver position?  And should they keep the much more seasoned Arnaz Battle at the expense of young Tyler Grisham?
Perhaps the most difficult roster battle will occur at linebacker.  James Harrison, LaMarr Woodley, James Farrior, and Lawrence Timmons are guaranteed roster spots.  The Steelers also have Keyaron Fox, who is a special teams ace,  and who often plays better than Lawrence Timmon when he plays in his place.   They also brought back former Steelers LB Larry Foote.  Foote was allowed to leave as a free agent two years ago because he was getting a little long in the tooth.  And now he is back, but he is even older than he was the first time.
Any other year, this would be a great group of linebackers to enter the season with.  However, the Steelers also have 3 rookie linebackers who are making strong cases for themselves.  Jason Worilds, Thaddeus Gibson, and Stevenson Sylvester have all shown glimpses of potential greatness.  Yet it is unlikely that the team will be able to keep all three of them.  So the coaching staff is going to be forced to make some very difficult decisions.
To make matters even more difficult for the coaches, the Rooney family has asked the coaches to do a better job of finding playing time for the younger players.
Cutting the roster down to the final 53 players is always difficult.  However, this year it will probably be even more difficult than it usually is.  And the burning question on everybody's mind will be, "should we choose youth or experience?"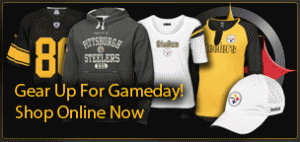 (If you enjoyed this article, please consider leaving a comment by clicking on the square at the top right of this article. Also, please subscribe to our blog by pressing the orange button below. You can also follow us on Twitter by clicking the bird doohicky below. Also consider following us on Facebook. Thanks.)
Subscribe in a reader