Penalties, penalties, and more penalties.  That pretty much sums up last night's Steelers game.  They lost to the Denver Broncos 34-17, but the game was much worse than the score.
Some of the penalties were understandable.  Those we can forgive.  But others were just inexcusable.  For example, will somebody please tell Flozell Adams that he's not supposed to move until AFTER the ball is snapped.  He seems to have a fundamental misunderstanding of that concept.  Instead of Flozell "The Hotel" Adams, his nickname should be Flozell "Off-sides" Adams.
Other penalties were just plain stupid.  Like Keenan Lewis getting a personal foul for retaliating on a wide receiver who was talking trash to him.  Immediately after the play, Coach Tomlin called Lewis to the sideline and chewed him out.  I couldn't tell what Tomlin was saying, but the fact that he grabbed Lewis by the collar and held him the whole time that he was talking to him indicated to me that he wasn't giving him compliments about his excellent technique.  As if we needed even more proof that Tomlin wasn't happy, he sent lewis to the bench following their "discussion".
Lawrence Timmons also got in on the blunders with his silly roughing the quarterback penalty.  Ummmm Lawrence, if you're going to throw the quarteback to the ground, please try to do it a little sooner.  Doing it 30 seconds after the whistle blows is usually going to draw a penalty.
But even without the rash of penalties, the Steelers just didn't play well.  The Broncos' offense seemed to be able to move the ball at will.  And they did it on the ground and through the air.  The Steelers' defense looked eerily like the 2009 version that couldn't stop anybody.
The quarterbacks also looked bad.  It's never a good thing when Charlie Batch looks like the best quarterback on the roster.  But that's exactly how it looked last night.
Dennis Dixon learned the hard way that it is a lot tougher playing against the opponent's first string defense than it is going against their 3rd string defense.  He threw two costly interceptions that probably cooled off the throng of fans who had been calling for Coach Tomlin to name Dixon as the starter during Ben Roethlisberger's suspension.
Unfortunately, Byron Leftwich didn't look much better.  So it looks like the quarterback race is going to go all the way down to the wire.   Byron Leftwich and Dennis Dixon will have one final preseason game in which to make their case to be the starter.
Despite the many bad things that happened during the game, there were also some very good things that happened.  Probably the most important was that rookie center Maurkice Pouncey made his first start at the position.  Moreover, he did quite well.  Most centers don't have to make their first start against Jamal Williams.  Williams is a 350 pound monster who is a perennial Pro Bowler, and one of the most feared nose tackles in the NFL.  But Pouncey held his own, and completely neutralized Williams.
Another bright spot was rookie running back Jonathan Dwyer.  Dwyer was injured for most of training camp, so fans and coaches haven't really gotten to see what he can do.  Because he hasn't been able to perform, he was in jeopardy of not making the team.  However, he had a great showing last night.  He led the team in rushing with 89 yards on 13 carries.  But even more impressive than the actual yardage was the way that he got them.  He had three long runs of 17, 18, and 40 yards.  He also had several runs where he showed that he can be a very physical runner as well.  On one particular play, he seemed to carry at least 3 or 4 tacklers for almost 10 yards before they finally brought him down.  That is what Steelers fans have been longing to see since Jerome Bettis retired.
The Steelers have one final preseason game in which to evaluate players.  Hopefully, that game will not feature as many penalties and stupid plays as we saw Sunday night.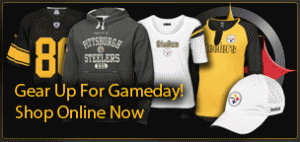 (If you enjoyed this article, please consider leaving a comment by clicking on the square at the top right of this article. Also, please subscribe to our blog by pressing the orange button below. You can also follow us on Twitter by clicking the bird doohicky below. Also consider following us on Facebook. Thanks.)
Subscribe in a reader