Yesterday was the deadline for NFL teams to submit their final 53-man rosters to the NFL office.  The Steelers turned in their final roster along with all of the other NFL teams.  If you haven't seen their 2010 roster yet, please click here.
After having some time to digest the roster, I wanted to share a few thoughts about the 2010 Steelers.
Overall thoughts:
I go into every season thinking that the Steelers are going to win the Super Bowl.  I'm just that kind of fan.  Everybody is 0-0, so why be pessimistic?  Sure, the Steelers didn't make the playoffs last year, but they were Super Bowl champs the prior year.  Have they really changed that much?
In some ways, we are actually stronger than the team that won the Super Bowl.  But in other ways, we look awfully similar to the team that missed the playoffs in 2009.  Let's take a look at the team's strengths and weaknesses.
Strengths:
Quarterback – The quarterback position is clearly a strength for this team.  We all know what Big Ben can do.  And I was pleasantly surprised to see a very serious debate going on among Steelers fans about who should start in Ben's absence.  Some felt that Byron Leftwich was the best choice.  Others were advocating Dennis Dixon.  Still others felt that Charlie Batch was the way to go.
The way that I see it is that the Steelers have 4 very capable quarterbacks.  Any one of them can lead their team to a win in the NFL.  Each of them has different strengths and weaknesses.  But they are all capable.  Not many teams have as backup quarterbacks that are as talented as ours.  So that is a very good problem to have.
Linebacker – The Steelers have always been known for having great linebackers.  And this year's linebackers are as good as any in recent memory.  Not only are they good, but they are deep.
I was concerned that the team was going to be forced to cut one of their talented rookie linebackers in order to get the roster down to 53 players.  But they surprised me and kept 9 linebackers on the roster.  That was a great move.  I challenge you to name another team that is as strong at linebacker as the Steelers currently are.
Running back – Some believe that the Steelers are going to be more of a running team in Ben Roethlisberger's absence.  Personally, I'm not convinced.  I don't believe that Bruce Arians will ever allow that.  But if he did (he won't), we have a great group of running backs to carry the load.
One of the most notable things about this group of running backs is that they are all capable of breaking runs to the outside, or getting tough yards between the tackles.  With Isaac Redman and Jonathan Dwyer added to the mix, I don't think the Steelers are going to struggle in short yardage situations the way they did last year.
Wide receiver – This group has a good mix of youth and experience.  Hines Ward is the same dependable receiver he's always been.  Mike Wallace is going to get a lot more opportunities, so that is going to be great for the team.  I think he is ultimately going to be a better receiver than Santonio Holmes was.  And the two rookies, Emmanuel Sanders and Antonio Brown, should both to have long, productive careers with the Steelers.  It wouldn't surprise me if one or both of the rookies ended the year ahead of Antwaan Randle El and Arnaz Battle on the depth chart.
Defensive line – Aaron Smith is back.  Need I say more?
Weaknesses:
Defensive line – I know that I just said that the defensive line was a strength.  But it's also a weakness.  Our line is old.  In fact, Ziggy Hood is the only defensive lineman that we have who is under 30.  That's not good.  We have to address this problem in next year's draft.
Offensive line – I feel like a broken record each time I say this.  But our offensive line just isn't that good.  Max Starks tries hard, but he just isn't quick enough to handle speed rushers.  Trai Essex wouldn't start on most NFL teams.  And Flozell Adams is past his prime, and is a penalty waiting to happen.  By the 3rd game of the season, when Flozell has accumulated his 20th false start penalty and his 50th holding penalty, Steelers fans are going to start clamoring for a change at right tackle.
Fortunately, the Steelers drafted Maurkice Pouncey in the first round.  Pouncey is already the starter, and I anticipate nothing but good things from him for the next 10 years.
Cornerbacks – Our cornerbacks got torched last year.  They made mediocre wide receivers look like Randy Moss.  The couldn't stop anybody.  They didn't record their first interception until the last game of the season.  And unfortunately, they haven't looked much better in the preseason.
The team did bring back Bryant McFadden, but McFadden didn't record a single interception last year with the Arizona Cardinals, so he isn't likely to help in that regard.  Hopefully, Ike Taylor will return to his old ways and will be able to stop the opponents' best receiver.  Also, I'm hoping that either Keenan Lewis or Crezdon Butler steps up and beats out William Gay for the nickel position.
So those are my initial thoughts as I look at the players who made the Steelers' final 2010 roster.  Do you agree or disagree.  Please leave a comment and let me know your thoughts.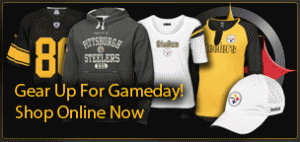 (If you enjoyed this article, please consider leaving a comment by clicking on the square at the top right of this article. Also, please subscribe to our blog by pressing the orange button below. You can also follow us on Twitter by clicking the bird doohicky below. Also consider following us on Facebook. Thanks.)
Subscribe in a reader