The time is finally here.  The Steelers open the 2010 NFL season this Sunday against the Atlanta Falcons.
After watching the Steelers miss the playoffs in 2009, many Steelers fans are pessimistic about this season.  Particularly with Ben Roethlisberger missing the first four games due to his suspension.  But I am not among them.  I believe that 2010 is going to be a good season for the Steelers, and that the Atlanta Falcons are going to be the first victims of the rejuvenated Steelers.
Like the Steelers, the Falcons missed the playoffs last year with a 9-7 record.  They had injuries to quarterback Matt Ryan and running back Michael Turner that put a serious damper on their season.
So like the Steelers, the Falcons are looking to bounce back in 2010.  To further help their cause, the Falcons will have Peria Jerry back in their lineup.  Jerry was their 2009 first round draft pick.  He missed all of the 2009 season with a knee injury.  So 2010 will effectively be his rookie year.
On offense, in addition to the running of Michael Turner, Ryan likes to throw the ball to tight end Tony Gonzalez and wide receiver Roddy White.  These two will provide a test for the Steelers' secondary.
The Steelers will have Dennis Dixon at the helm, since Big Ben is ineligible to play in the opener.  This will only be Dixon's second regular season start.  In his first start last season against the Baltimore Ravens, the Steelers kept Dixon to a limited number of plays.  Most of them consisted of handing the ball to a running back.  That won't be the case this time around.  Dixon is more familiar with the Steelers entire playbook, and they plan to unleash him on the Falcons.
While I do expect to see Dixon throwing the ball quite a bit, I nevertheless suspect that the team will lean a bit more to the running game than they would if Big Ben were playing.  So look for healthy doses of Rashard Mendenhall and Isaac Redman on Sunday.
On defense, Steelers fans are going to be keeping a close eye on the Steelers' secondary.  The primary reason will be that they want to see if Troy Polamalu is playing like the Tasmanian Devil that we're all used to seeing.  But fans will also be watching to see if there is any improvement in the cornerbacks.
Last year, the Steelers cornerbacks couldn't stop anybody.  The team brought back Bryant McFadden to help address that problem.  Hopefully we will see marked improvement from the cornerbacks.  Otherwise, it may be a long day.  Matt Ryan is talented enough that he can pick a defense apart if given the opportunity.
This should be a good opening test for the Steelers.  But when the dust settles, I expect the Steelers to walk away with a victory.  I predict a final score of Steelers 24, Falcons 14.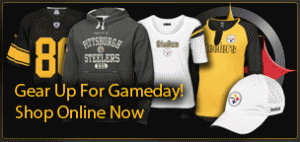 (If you enjoyed this article, please consider leaving a comment by clicking on the square at the top right of this article. Also, please subscribe to our blog by pressing the orange button below. You can also follow us on Twitter by clicking the bird doohicky below. Also consider following us on Facebook. Thanks.)
Subscribe in a reader