Today the Steelers face the Tampa Bay Buccaneers in Tampa.
The Steelers have a 7-1 regular season record against the Buccaneers, and they are 4-1 against them in Tampa Bay.
Tampa Bay has difficulty selling out games, and we know how much Steeler Nation loves taking over other teams' stadiums.  So I am going to assume that those unsold tickets are going to end up in the hands of Steelers fans, and this is going to be like a home game for the Black and Gold.
With that in mind, here is a look at some of the key match-ups that may effect the outcome of tomorrow's game.
Troy Polamalu vs. Kellen Winslow Jr. – Polamalu and Winslow are old friends.  They've faced off many times over the years, back when Winslow was still playing for Cleveland.  There aren't many players in the NFL that Troy wouldn't have an advantage over.  But Kellen Winslow Jr. is one of them.  Winslow is taller than Troy, and he has a decided advantage anytime there is a jump ball between the two of them.  Despite that one advantage, Troy and Kellen usually play one another to a virtual draw.  Advantage:  Neither.
Mike Tomlin vs. Raheem Morris – This is obviously not an on-field match-up.  But the two head coaches are very close friends who coached together in Tampa Bay.  Tomlin and Morris talk on a regular basis, and I'm sure that quite a bit of trash talk has been exchanged between them this week.  But the bottom line is that Morris has a 5-13 record as a head coach, and Tomlin has a 36-18 record and a Super Bowl ring.  Advantage:  Steelers.
Steelers Defense vs. Cadillac Williams – Cadillac Williams is a talented, but injury-prone, running back.  He has the ability to light up any team.  Fortunately, the Steelers are not just any team.  Their defense takes great pride in not letting anyone run on them.  Just ask Chris Johnson and Michael Turner.  Despite Williams' talent, he will be lucky to get 60 yards today.  Moreover, he's going to have to spend some extra time in the hot tub after today's game.  Advantage:  Steelers.
Dick LeBeau vs. Josh Freeman – It will be James Harrison and LaMarr Woodley who are breathing down Freeman's neck today, but it will be defensive coordinator Dick LeBeau who will be concocting the plays that allow the Steelers' linebackers to cause havoc.  LeBeau loves confusing quarterbacks.  He develops exotic blitzes that confuse even the most experienced QB's.  Young quarterbacks like Freeman don't stand a chance against LeBeau.  I expect Freeman to get sacked at least 3 times today.  Advantage:  Steelers.
Bruce Arians vs. Charlie Batch – Charlie Batch is a very experienced quarterback.  He is more than capable of passing the ball and leading the Steelers to a victory.  Steelers offensive coordinator Bruce Arians LOVES to see his team pass the ball.  However, Arians knows that Batch has been injury-prone throughout his career.  He also knows that this is Byron Leftwich's first game back from an injury, and that Leftwich still isn't 100%.  With that in mind, Arians will probably ask Batch to hand the ball to his running backs 80% of the time.  It's a conservative approach that makes sense due to the Steelers' QB situation.  Unfortunately, it makes it easy for the opposing defense to stack the line with 8 or even 9 men in the box.  That makes it hard for Rashard Mendenhall to find any room to run.  Arians hates running the ball, and Batch hates being kept on a leash.  But both understand that this is the safest move for the Steelers until Ben Roethlisberger returns.  Advantage:  Neither.
Tampa Bay's weather in February vs. Pittsburgh's weather in February – I started feeling bad for Tampa Bay because they have no apparent advantages over the Steelers.  Their team is inferior.  Their uniforms are inferior.  Their stadium is going to be filled with Steelers fans.  So I had to think of some area in which Tampa has an advantage over Pittsburgh.  Their weather in winter is the only one that I could think of.  It's not much, but it's something.  Advantage:  Tampa (sort of).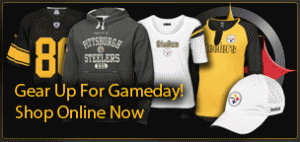 (If you enjoyed this article, please consider leaving a comment by clicking on the square at the top right of this article. Also, please subscribe to our blog by pressing the orange button below. You can also follow us on Twitter by clicking the bird doohicky below. Also consider following us on Facebook. Thanks.)
Subscribe in a reader