I went through an entire bottle of Rolaids, and I took the last of my heart medicine while watching the Steelers play the Baltimore Ravens last night.  But it was ultimately worth it.
The Steelers pulled off a dramatic 13-10 win on the Ravens' home field.  This avenged the Ravens' earlier win at Heinz Field.
Of course, Ben Roethlisberger didn't play in that earlier contest, and he always seems to be the difference maker in these Steelers/Ravens games.  Big Ben seemingly never loses to the Ravens.
Perhaps that's why it appeared that the Ravens were trying to put Ben out of the game early on.  Ravens defensive lineman Haloti Ngata struck Roethlisberger in the face, and according to reports, Big Ben suffered a broken nose on the play.
Despite a trail of blood streaming from Roethlisberger's nose, the referees didn't see any type of infraction on the play.  No penalty was called.
And in traditional Big Ben fashion, he continued to play despite a broken nose, an injured foot, and a hostile Baltimore crowd.
It was a tough night for both teams when they tried to run the ball.  Baltimore held the Steelers to a mere 54 yards rushing.  Not to be outdone, the Steelers held the Ravens to 43 rushing yards.
It was clear that the Steelers were going to have to find another way to win this game besides running the ball.  And find a way they did.
After 3 and a half frustrating quarters, in which it looked like the Steelers were destined to lose the game, the Steelers defense stepped up and made a "splash play".  Troy Polamalu blitzed Ravens quarterback Joe Flacco and caused a fumble.  LaMarr Woodley picked up the ball and returned it to the Ravens' 9 yard line.  Three plays later, Isaac Redman bulled his way into the end-zone for a touchdown, giving the Steelers the lead with less than 3 minutes remaining in the game.
With the win, the Steelers took sole possession of 1st place in the AFC North.
Other Steelers news
Punter Dan Sepulveda injured his ACL last night and is probably out for the remainder of the season.  This is the second season-ending injury of Sepulveda's young career.
Bryant McFadden had a tough night last night.  He couldn't seem to guard anyone, and the Ravens took advantage of that fact.  Cornerback is definitely going to have to be a priority in next year's NFL Draft.
Heath Miller was diagnosed with a concussion after taking an illegal hit that looked like it might have caused a severe neck injury.  Was I the only one praying for Miller after that play?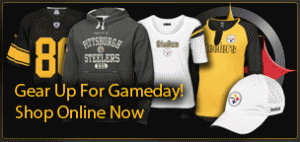 (If you enjoyed this article, please consider leaving a comment by clicking on the square at the top right of this article.  Also, please subscribe to our blog by pressing the orange button below.  You can also follow us on Twitter by clicking the bird doohicky below.  Also consider following us on Facebook. Thanks.)
Subscribe in a reader