By Alfonzo Washington, Jr.

Here is an urgent update coming from air traffic control for the Steeler Nation.
WARNING:  There will be no takeoffs this weekend.  No, we're not referencing Pittsburgh International Airport (PIT), we're talking about the big Ketchup Bottle (Heinz Field).  The Steelers will ground the NY Jets on Sunday.  Expect a lot of turbulence (the Steeler pass rush), rough landings (Sanchez on his behind) and multiple delayed flights (sacks & tackles for loss).  The result will be many red eyes (on the crying Jets fans & players).
What happened to the mighty New York Jets?  They have gone from #1 in most NFL Power Rankings, to a team in desperate need of a win.  They're coming off of back-to-back losses, and are struggling for their playoff lives.  Rest assured the BLACK– N– GOLD will not offer a remedy for their ailments this weekend.
While many national sportswriters have been asking "What's wrong with the mighty Jets?", I'm asking a different question.  My question is "What's wrong with the sportswriters?"
The sportswriters and most "experts" propped the Jets up as a powerhouse team that was an early favorite to make it all the way to the Super Bowl.  They were featured on the HBO series Hard Knocks, and all they seemed to talk about during the show was that the Jets were Super Bowl bound.
Everyone painted a picture of the Jets as a powerful F-15.
But when you actually break down the film, you'll quickly realize that the Jets are an over-rated team.  They're not an F-15.  They're more like a crop duster.
So how did the Jets fool so many?  How was it that just two weeks ago they were tied for the best record in the NFL?
Let's take a look at how the Jets' season has unfolded.
The Jets have benefited from multiple close call wins versus sub-par teams.  These wins have made Gang Green look mightier than they really are.
Week 6:  Jets 24 Broncos 20
Turning Point: A 46 yard pass interference call on 4th down allowed the Jets to setup a go ahead touchdown in the last 2 minutes.
Week 9:  Jets 23 Lions 20 Overtime
Turning Point:  Lion QB Matthew Stafford gets hurt with 9 minutes to go in the game allowing the Jets to overcome a 10 point deficit and win on a field goal in overtime.
Week 10:  Jets 26 Browns 20 Overtime
Turning Point:  In overtime, Browns WR Chansi Stuckey fumbles after a first down at the NYJ 36 yard line and within field goal range.  This allows the Jets to win three possessions later with 24 seconds left on a 37 yard touchdown pass to Santonio Holmes.
Week 11:  Jets 30 Texans 27
Turning Point:  24 seconds left in the game and the ball at the Houston 48 yard line (Jets with no timeouts left and down by 4).  The Texans allow a 42 yard pass play down the sideline to Braylon Edwards to the Houston 6.  This setup a 6 yard touchdown pass to Santonio Holmes with 6 seconds left.
The reality is that 4 critical plays saved the Jets

1)     4th down pass interference call versus Broncos
2)     4th quarter injury to Lions QB Stafford
3)     Browns fumble in OT
4)     Titans not defending the sideline with 24 seconds to go
Without these four plays the Jets are a team with a 5 – 8 record.  We should not underestimate the Jets, but they are not a team to be feared as the media paints them.
As I stated earlier "The Steelers will ground the NY Jets on Sunday."  It will be proven that the Jets are who we thought they were.
The Jets aren't up to the task of beating the Steelers.  But if you have any crops that need to be dusted, I know just the team for the job.
Today's featured item:
Every Steelers fan (particularly those who don't live in western Pennsylvania) needs to mark their territory.  After all, when opposing fans enter your home or work space, they need to know that they're in Steelers country.  And what better way to announce it than with this Steelers country banner?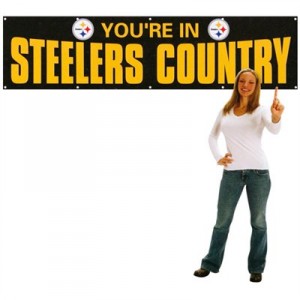 This 8 foot banner will make it clear to all who enter your abode that they are in Steelers country.  So whether you live in Pittsburgh, or Baltimore, or Dallas, or LA, or Paris, get your banner.  Because let's face it, the entire Earth is Steelers country.
To order, simply click on the buy now button above.  Don't delay.  Order now!  There's still time to get your banner before the holidays.
(If you enjoyed this article, please consider leaving a comment by clicking on the square at the top right of this article.  Also, please subscribe to our blog by pressing the orange button below.  You can also follow us on Twitter by clicking the bird doohicky below.  Also consider following us on Facebook. Thanks.)
Subscribe in a reader