Let me preface this by saying that I absolutely hate writing about Steelers' losses.   Hate, hate, hate, hate, hate!  And after watching the Steelers lose 22-17 to the NY Jets, I don't feel like typing a post-game article.  Instead, I feel like throwing my computer out the window.  I'm just being honest.  But I can't only report on Steelers victories.  So write I must.
To lighten my mood, I'm going to start with the positives that I saw in the game.
Overall, the Steelers played well except for a few plays.  Unfortunately, those plays proved to be costly.
The Good
Rashard Mendenhall rushed for 100 yards.  We haven't seen him do that for a while, so that was definitely good to see.  Not only did he rush for 100 yards, but he also averaged 5.9 yards per carry.
As demonstrated by Mendenhall's performance, the offensive line played pretty well.  Yeah, they allowed Jason Taylor to come in untouched on that safety, but other than that, they looked pretty good.
Mike Wallace also played well.  He had 102 yards receiving, and should have had a touchdown.  Unfortunately, the referees seemed to have reached an agreement to not make any pass interference calls on the Jets.
Young Emmanuel Sanders had the best game of his career so far.  He had 7 catches and actually led the team in receptions (Okay, he was tied with Mike Wallace.  But he still did well).  Way to go, Rookie!
Shawn Suisham continues to hold perfection in a death grip.  I'm hoping he can complete the season without a single miss.   Wouldn't that be a great story?
Statistically, the Steelers also put up a nice performance.  They generated 100 more yards of offense than the Jets.  Ben threw for more yards than Sanchez.  The team ran for more yards than the Jets.  They had a greater time of possession than the Jets.  They were more effective in the red zone than the Jets.  But unfortunately, statistics don't win games.  And the Steelers didn't win this one.
So lets look at what went wrong.
The Bad
The most obvious problem was that the Steelers allowed the Jets to return the opening kickoff for a touchdown.  Those seven points made a huge difference in the game.
The second key problems was the safety.  Many blamed Bruce Arians for calling a bad play.  I don't.  I blame the blockers.  Jason Taylor came in untouched.  Somebody obviously blew their assignment.  Were it not for that safety, the Steelers could have called on Shaun Suisham to kick a game-tying field goal late in the game, rather than being forced to go for a touchdown.
Matt Spaeth had a few critical drops as well.  He only caught 3 of the 8 passes that were thrown to him, and he had 3 bad drops early in the game.  Get well soon, Heath.
Big Ben didn't have a great game either.  He completed only 23 of 44 pass attempts, and was sacked 3 times.  My question is why did Ben throw the ball 44 times while only giving it to Rashard Mendenhall 17 times?  Wasn't Mendenhall averaging 5.9 yards per carry?  Hmmmmmm.
And finally, the referees didn't do the Steelers any favors.  There were a few pass interference calls that weren't called.  One on Emmanuel Sanders was especially blatant.
So the Steelers are now 10-4, and have the same win-loss record as the Baltimore Ravens.  The Steelers still have an advantage over the Ravens in the first tie-breaker, so technically they're ahead of the Ravens.  But I felt much better when our record was better than theirs.
Now the Steelers have a short week before they have to face the Carolina Panthers on Thursday.  I usually don't like Thursday games.  But in this case, I don't want to wait until Sunday to get the bad taste of the Jets game out of my mouth.  Yuck!
Here we go Steelers, here we go!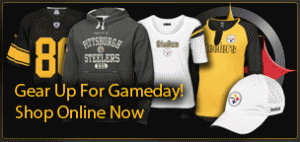 (If you enjoyed this article, please consider leaving a comment by clicking on the square at the top right of this article. Also, please subscribe to our blog by pressing the orange button below. You can also follow us on Twitter by clicking the bird doohicky below. Also consider following us on Facebook. Thanks.)
Subscribe in a reader