The Steelers did what they had to do.  What more can we ask of them?
The team was guaranteed a spot in the playoffs.  But they needed more than that.  They needed to beat the Cleveland Browns in order to lock up the #2 seed in the AFC playoffs, and a first round bye.  So beat the Browns they did.
The Steelers jumped on them from the opening bell.  On the second play of the game, Troy Polamalu intercepted a Colt McCoy pass.  One play later, Ben Roethlisberger threw a 56 yard touchdown pass to Mike Wallace.  7-0 Steelers.
The Steelers went on to score touchdowns on their first four offensive possessions.  They added a field goal on their 5th possession and ended the first half leading 31-3.
After an equally dominant second half, the Steelers locked up a 41-9 win, and the AFC North crown.
While we're all happy to have a much needed bye, we have to remember that this is just the beginning.  Now comes the hard part.
The Steelers will play their first playoff game on Saturday January 15th at 4:30PM EST.  They'll face either Indianapolis, Kansas City, or Baltimore.
The Steelers can definitely use the week off.  They've been banged up for a while, and the bye week will give them a chance to get healthy.  Center Maurkice Pouncey suffered a neck stinger during the game, and can use the extra week to heal.  Troy Polamalu is still not completely healed from his injury, and he can also use the extra time.  The Steelers didn't put Aaron Smith on injured reserve when he got hurt earlier in the year because they hoped that he'd be able to come back for the playoffs.  The extra week off will give Smith more time to make a potential comeback as well.
Other team notes:
Troy Polamalu's seventh interception of the season tied a career high.
The Steelers' defense ended the season allowing an average of only 62.8 rushing yards per game.  That's a new team record.
Wide receiver Mike Wallace had 105 receiving yards.  This was his seventh 100-yard receiving game this season.  That ties the single-season Steelers' record that was set by John Stallworth in 1984.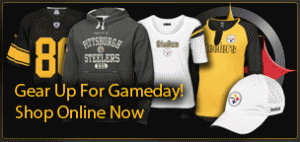 (If you enjoyed this article, please consider leaving a comment by clicking on the square at the top right of this article. Also, please subscribe to our blog by pressing the orange button below. You can also follow us on Twitter by clicking the bird doohicky below. Also consider following us on Facebook. Thanks.)
Subscribe in a reader