Before reading this week's key match-ups, please read my Steelers-Bengals Preview
On Sunday, the Steelers travel to Paul Brown Stadium in Cincinnati to take on the Bengals.  Despite the Bengals 0-6 record, the Steelers have to be careful not to allow the Bengals' record to lull them into a false sense of security.  Any game against a division rival is important, and can't be taken lightly.
These are the match-ups that I believe will have the highest likelihood of impacting the outcome of the game.
Ryan Fitzpatrick vs. James Harrison and LaMarr Woodley
Ryan Fitzpatrick is going to need every ounce of his Harvard education to figure out how to avoid the twin freight trains, James Harrison and LaMarr Woodley.  Fitzpatrick has been sacked 8 times in 2 starts this year.  Don't be surprised if Fitzpatrick adds 8 more to his total on Sunday.  Hint to Fitzpatrick: Duck!   Advantage: Steelers.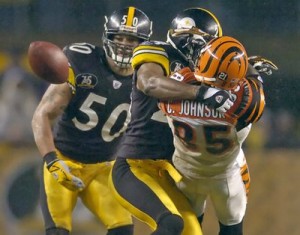 Dick LeBeau vs. Bengals Offensive Coordinator Bob Bratkowski
The man most responsible for keeping Ryan Fitzpatrick alive upright on Sunday will not be a Bengals offensive lineman.  Nope, that responsibility falls on offensive coordinator Bob Bratkowski.  Bratkowski is going to have to develop a game plan that will prepare the inexperienced Fitzpatrick for the most complex defensive scheme that he has ever faced, manned by the most relentless and unstoppable rushers that he has ever faced.  Yeah, good luck with that.  Advantage: Steelers.
Mewelde Moore vs. Bengals' Defensive Line
Mewelde Moore had an impressive outing in his first game as a Steelers starter.  His mouth should be watering in anticipation of facing a Bengals defense that allows 4.6 yards per carry.  Might we see Moore's first 100 yard rushing performance as a Steeler?  Advantage: Steelers.
Ike Taylor and Bryant McFadden vs. T.J. Houshmandzadeh and Chad Ocho Cinco.
Despite the difficulties that the Bengals have had establishing their passing game this year, these are two of the most dangerous receivers in the NFL.  Few tandems are as talented.  Ike Taylor has enjoyed a tremendous amount of success against Ocho Cinco during his career, and Bryant McFadden has played so well as a replacement for DeShea Townsend, that Townsend may have a hard time getting back on the field when he is completely healthy.  This may be the best match-up of the game.  Advantage: Neither.
NT Chris Hoke vs. C Eric Ghiaciuc
Bengals center Eric Ghiaciuc struggles against large nose tackles.  Casey Hampton would eat him alive.  Ghiaciuc is more of an athletic center, and Chris Hoke is a much better match-up for him (at least on paper).  Despite Hoke's smaller size, the Steelers lose very little when he plays in place of Hampton.  Advantage: Steelers.
Bengals' Punt Team vs. Steelers' Punt Team
Okay, we're starting to feel like homers, so we have to find some area in which the Bengals have an advantage.  We predict that the Bengals' punt team will dominate the Steelers punt team in total number of punts.  In fact, the Bengals may punt 8-10 times more often than the Steelers.  I wouldn't even be surprised if they pitched a shutout, and the Bengals kept the Steelers from having to make a single punt during the entire game.  If that's not total domination, we don't know what is.  Advantage: Bengals (sort of). 

Steeler Nation vs. Bengal Nation Medium Sized Assembly
There is no doubt that Steeler Nation is going to be in the house on Sunday.  Terrible Towels will be waving in Paul Brown Stadium.  The question is, which fan group will have the larger presence.  Ordinarily, the home team's fans would always have the advantage.  However, these are Bengals fans (is there really such a thing?) we're talking about.  They started giving up on their team in week 2.  It will be tough, but I think Steeler Nation might be able to win this one.  Advantage:  We'll see on Sunday.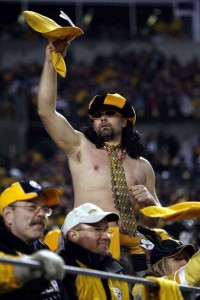 (If you enjoyed this article, please consider leaving a comment below. Also, please subscribe to our blog by pressing the orange button below. Thanks.)
Subscribe in a reader