September 5, 2009
By Donald Starver
The Steelers have finally published their final cuts for the 2009 season.  Head coach Mike Tomlin was originally scheduled to announce his cuts yesterday at a press conference at 4:00PM.  However, the Steelers decided not to give the other NFL teams advance notice of which players the Steelers would be releasing.  The Steelers believed that would have given the other 31 NFL teams too much time to negotiate with and steal players that the Steelers would like to sign to their practice squad.  So instead, the Steelers kept their official cuts secret until the last possible moment.
Among those cut by the Steelers were preseason star Isaac Redman, last year's 3rd round draft pick Bruce Davis, fullback Carey Davis, Dallas Baker, and 2009 draft picks Sonny Harris and A.Q. Shipley.  Also cut was CB Anthony Madison, who was seldom used as a defensive back but was the team's leading special teams tackler.
The Steelers tried to make last minute trades, but appear to have been unsuccessful.  One area that they would have liked to upgrade is their backup left tackle position.  Tony Hills is the top backup at left tackle, but the Steelers would rather have a more experienced veteran playing this critical role.
So the Steelers' roster appears to be as follows:
Quarterbacks – Ben Roethlisberger, Charlie Batch,and  Dennis Dixon.
Running backs – Willie Parker, Rashard Mendenhall, Mewelde Moore, Frank Summers, and Stefan Logan.
Wide Receivers – Hines Ward, Santonio Holmes, Limas Sweed, Mike Wallace, and Shaun McDonald
Tight ends – Heath Miller, Matt Spaeth, and David Johnson.
Offensive linemen – Max Starks, Chris Kemoeatu, Justin Hartwig, Trai Essex, Willie Colon, Doug Legursky, Neo….ummm, I mean Tony Hills, Ramon Foster, and Kraig Urbik.
Defensive linemen – Casey Hampton, Chris Hoke, Aaron Smith, Brett Keisel, Ziggy Hood, Travis Kirschke, and Nick Eason.
Linebackers -  James Harrison, James Farrior, Lawrence Timmons, LaMarr Woodley, Keyaron Fox, Patrick Bailey, Andre Frazier, and Arnold Harrison.
Safeties – Troy Polamalu, Ryan Clark, Tyrone Carter, and Ryan Mundy.
Cornerbacks – Ike Taylor, William Gay, Deshea Townsend, Keenan Lewis, Joe Burnett, Keiwan Ratliff.
Specialists – Jeff Reed, Dan Sepulveda, and Greg Warren
This is almost the exact roster that I predicted last week in this article.  The only real changes are Summers instead of Redman, Eason instead of Harris, Ryan Mundy instead of Donovan Woods, and Joe Burnett instead of Anthony Madison.
So this is the group that will take the field for the black and gold in their quest for championship #7.  Here we go!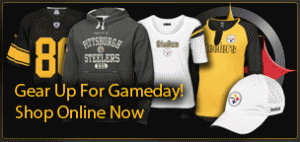 (If you enjoyed this article, please consider leaving a comment below. Also, please subscribe to our blog by pressing the orange button below. You can also follow us on Facebook or Twitter by clicking the doohickies at the bottom of the right column of this page.  Thanks.)
Subscribe in a reader