July 29, 2009
The Steelers ended 2008 with lots of players going into the last year of their contract.  During the course of the off-season, they have done an excellent job of locking up most of them.
Yesterday, the team signed tight end Heath Miller to a six-year extension.  The deal is reported to be worth $35.3 million, including a $12.5 million signing bonus.
This writer has often argued that Miller is one of the best tight ends in the NFL.  Because Miller plays in the Steelers' run-oriented offense, he doesn't get as many opportunities to catch the ball as some of his counterparts do.  But Miller's hands are as good as any tight end's in the league.  Moreover, Miller may be the best blocking tight end in the NFL.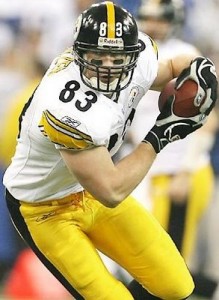 Despite being an afterthought in the Steelers' passing game, Miller has always done his job with quiet efficiency.  He is a blue collar player who does whatever is asked of him.  He never complains or demands more catches.  It is this quality that makes him the perfect tight end for the Steelers.
While Miller may not be the most important signing of the Steelers' off-season, he is the player that I am happiest to see get an extension. 
Congratulations, Heath.  You deserve it.
(If you enjoyed this article, please consider leaving a comment below. Also, please subscribe to our blog by pressing the orange button below. Thanks.)
Subscribe in a reader