After waiting for what has probably seemed like an eternity, Dick LeBeau was finally voted into the Pro Football Hall of Fame. LeBeau was added by the HOF veterans committee after being by-passed for Hall of Fame induction for decades.
LeBeau played cornerback for the Detroit Lions from 1959 – 1972. He played 170 consecutive games at cornerback, which is an NFL record at the position. LeBeau had 62 career interceptions, which was third most in NFL history at the time of his retirement. His numbers have been surpassed by several players since then, but he is still among the top 10 in interceptions in NFL history.
LeBeau played in the Pro Bowl in 1965, '66, and '67. He also was named Second-Team All-Pro 3 times.
After finishing his playing career, LeBeau turned to coaching, and has coached in the NFL for 37 years. LeBeau is best known for being a coaching innovator, and is credited with creating the zone blitz, which is now common in the NFL.
Also being inducted in the NFL Hall of Fame class of 2010 are two other players with Pittsburgh connections, Russ Grimm and Ricky Jackson.
Russ Grimm played his college ball at Pitt, before joining the NFL's Washington Redskins. Grimm was part of the Redskins famous "Hogs" offensive line. Grimm made the Pro Bowl four times, and played on 3 Super Bowl championship teams. Following his NFL career, Grimm also spent time as an assistant coach with the Pittsburgh Steelers before leaving for his current position with the Arizona Cardinals.
Like Grimm, Ricky Jackson also played his college football at Pitt. In the NFL, Jackson played for the New Orleans Saints and the San Francisco 49ers. Jackson played outside linebacker for the Saints from 1981-1993, where he made 6 Pro Bowl teams. He played his final 2 seasons at defensive end for the 49ers.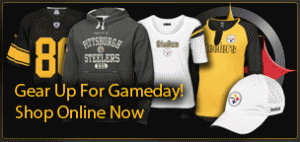 (If you enjoyed this article, please consider leaving a comment below. Also, please subscribe to our blog by pressing the orange button below. You can also follow us on Facebook or Twitter by clicking the doohickies at the bottom of the right column of this page.  Thanks.)
Subscribe in a reader