As if I needed another reason to hate the Baltimore Ravens, they had to go and beat the Denver Broncos last week and ruin the Steelers' opportunity to end the Broncos' unbeaten streak.  Curse you, Ravens!!!!
So the Steelers will face a Denver Broncos team that has one loss, but is still highly regarded in most NFL Power Rankings.
The Ravens didn't just beat the Broncos, they destroyed them 30-7.  The formula that they used was a combination of tough, pounding defense and hurry-up offense.  So I ask you, what team is even better at playing tough, pounding defense than the Baltimore Ravens?  The Pittsburgh Steelers.  Similarly, what team is better at executing a hurry-up offense than the Ravens?  Big Ben and the Steelers' no-huddle offense.  I'd say both of those things bode poorly for the Broncos.
One of the concerns for Steelers fans has been the fact that starting safety Ryan Clark may not play on Monday.  Personally, I don't think this is a great concern.  The Broncos are led by quarterback Kyle Orton (stop laughing).  Orton doesn't have a big arm, and he is not going to beat you by throwing long passes.  Thus, Clark's presence is not going to be as important as if the Steelers were playing against a stronger armed quarterback.
Orton's tendency is to throw short or mid-range passes.  He has only thrown 17 passes of 20 yards or more (as opposed to 29 by Ben Roethlisberger).  But even that statistic is deceiving.  Many of those passes were actually short passes with a long run after the catch by Brandon Marshall.   So the majority of the pressure will be on the cornerbacks and linebackers, not the free safety.
Denver's other offensive threat is running back Knowshon Moreno.  Moreno averages a mere 60 yards per game, and is far from the greatest rushing threat that the Steelers will face this season.  With Orton posing minimal downfield threat, Moreno should be easily contained.
Perhaps the greatest threat posed by the Broncos is their defense.  The Broncos defense is currently ranked #1 in the NFL.  That's territory that is very familiar to the Steelers.
The Broncos are led by outside linebacker Elvis Dumervil.  Dumervil is second in the NFL in sacks with 10.  Dumervil is essentially a James Harrison clone.  He is short (5'11″) and very strong, with a non-stop motor.  He even wears the same number as James Harrison.
The task of stopping Dumervil falls to Steelers left tackle Max Starks.  Fortunately, Starks has the advantage of practicing against James Harrison everyday.  That should give him adequate preparation for what he is going to face.
As we mentioned earlier, the key to this game should be the Steelers defense and their ability to pressure Kyle Orton, and Big Ben's ability to keep the Broncos' defense from making situational substitutions by running the no-huddle.  I don't anticipate that the Steelers will have a problem with either of these.
I project a Steelers victory by a score of 27-14.
Other Articles of interest:
If you haven't already read it, please check our our Steelers vs. Broncos key match-ups.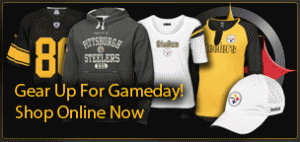 (If you enjoyed this article, please consider leaving a comment below. Also, please subscribe to our blog by pressing the orange button below. You can also follow us on Facebook or Twitter by clicking the doohickies at the bottom of the right column of this page.  Thanks.)
Subscribe in a reader