This week the Pittsburgh Steelers travel to Jacksonville to play the Jaguars. The 8:15pm game will be a nationally televised on NBC.
Before reading this week's key match-ups, please read my Steelers-Jaguars Preview here.
Ordinarily, I would focus on the key individual match-ups that are likely to determine the outcome of the game. However, there are extenuating circumstances that need to be considered before looking at individual match-ups.
Following their Monday night game against the Baltimore Ravens, the Steelers limp into Jacksonville with a depleted line-up. Offensively, the Steelers will be without running backs Willie Parker, Rashard Mendenhall, and Carey Davis. Their running game was left so short-handed after the Ravens game that the Steelers had to sign two new players (Najeh Davenport and Gary Davis) in order to field more than the lone running back (Mewelde Moore) that remained healthy.
While the Steelers will still attempt to run the ball like they usually do, they can't be expected to have the same measure of success as usual when fielding their 4th string running back and two JV players.
On defense, the Steelers will be missing 2/3 of their defensive front line. Pro Bowl nose tackle Casey Hampton and defensive end Brett Kiesel are both out. This will have an effect (though not a devastating one) on the Steelers' defense.
On the opposite side of the ball, the Jaguars running attack has been ineffectual. The Jags have failed to hold onto a 4th quarter lead in 3 consecutive games. David Garrard's arm, and not Fred Taylor and Maurice Jones-Drew's legs, have carried the Jaguars.
Because of those uncontrollable circumstances, these dynamics will probably control the game:
Steelers running backs vs. Jaguars defense
Mewelde Moore was once a starting running back for the Vikings. He is an experienced veteran in the NFL. However, he is no Willie Parker. For that matter, he's no Carey Davis (which isn't saying a lot). Admit it Steelers fans, you were surprised when he made that one long run against the Ravens. I was too.
If the Steelers have to rely on Najeh Davenport or Gary Russell for significant carries, it is going to be a very long day. Both players watched the Steelers' game against the Ravens with a beer in one hand and a remote control in the other. While the Jaguars defense is not as intimidating as they once were, they should be able to handle the Steelers' 4th string running back and two couch potatoes. Advantage: Jaguars.
Jaguars running backs vs. Steelers Defense
Despite having a difficult year so far, Fred Taylor is still a Steelers killer. He always comes to play against the black n gold. And unfortunately, they can never seem to stop him. They cannot stop him on the ground. They cannot stop him with a hound. They cannot stop his forward run. They cannot stop it with a gun. They cannot stop him here or there. They cannot stop him anywhere.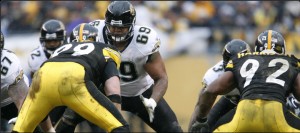 Maurice Jones-Drew has rushed for less than 35 yards in three of the Jaguars 4 games this season. Can you say "scrub", boys and girls?
The Steelers D is ranked #2 in the NFL. James Harrison is playing at a Pro Bowl level once again, and LaMarr Woodley is a budding superstar. Troy Polamalu is healthy again, and despite being a safety, he often lines up like a linebacker in Dick LeBeau's defensive scheme. Even the loss of Casey Hampton and Brett Keisel has not slowed the Steelers D. Chris Hoke is an underrated backup, and the Steelers seldom miss a beat when he comes in for Casey Hampton. Despite my earlier Dr. Seuss rhyme, Advantage: Steelers.
Steelers Offensive Line vs. Jaguars rush
The Steelers offensive line hasn't been able to stop anybody lately. Ben Roethlisberger has been sacked 729 times in the last 4 games. In fact, I think the Philadelphia Eagles are STILL sending blitzers after Big Ben. If I were Roethlisberger, I'd be doing everything in my power to try to undo whatever it is that he did that has made his offensive line hate him. Perhaps he can fly them all to Hawaii with him when he goes to the Pro Bowl. Oh wait, he already tried that. Nevermind.
Fortunately for Roethlisberger, the Jaguars defense seems to be allergic to sacks. Last week against the mighty Texans (yes, that's sarcasm you hear in my voice), Jacksonville had a whopping zero sacks. For once, I don't fear for Big Ben's life going into a game. Advantage: Neither.
Steelers Receivers vs. Jaguars Secondary
The Jaguars secondary is almost as banged up as the Steelers running backs. CB Rashean Mathis has 5 interceptions in his last 4 games against the Steelers. However, his is battling a shin injury suffered against the Texans, and he hasn't practiced this week. Safety Reggie Nelson didn't play last week after injuring his knee the previous week. His status is questionable. Scott Starks is out for the year with an ACL injury. Chad Nkang is on the PUP list. The Jaguars have been reduced to signing high school players to fill their defensive backfield (okay, so maybe I'm exaggerating a little bit. But not much). With Jacksonvilles DB's in such bad shape, Hines Ward and Santonio Holmes should be able to get 9 touchdown apiece in this game (but we'll settle for one apiece). Advantage: Steelers.
Now let's take a look at a few individual match-ups that may have an impact on the game.
Ike Taylor vs. Matt Jones
Jones has emerged David Garrard's favorite target. He's big, he's fast, and he's finally learned how to catch the ball. Fortunately, Ike Taylor is also big and fast. Despite having hands of stone, Taylor usually does a good job of stopping some of the best receivers in the league. Advantage: Steelers.
James Harrison and LaMarr Woodley vs. David Garrard
Since the Jaguars haven't been able to run the ball this year, they've been forced to rely on David Garrard's arm to win games. Despite being slow as molasses, Garard also manages to make plays with his legs. James Harrison and LaMarr Woodley are going to have to keep pressure on Garrard to keep him from picking the Steelers' defense apart. Advantage: Steelers.
Chris Kemoeatu vs. John Henderson
Kemo has shown that he basically sucks in pass protection. Fortunately, he is big (6'3″, 344 lbs.). He is going to need every bit of his size to battle man-mountain John Henderson. "Big John" is 6'7″, and weighs 335 lbs. Hopefully, Kemo and Henderson will be magnetically drawn together by their respective gravitational fields and essentially rendered motionless. If this doesn't happen, Kemo is toast. Advantage: Jaguars.
The real X-factor in this game will probably prove to be the Jacksonville fans. The game is being played in Jacksonville, where their fans get up for the Steelers more than they do for any other opponent. It is going to be tough for the Steelers to go in there and get a win. It is definitely going to be a loud, hostile environment for the Black and gold.
Subscribe in a reader