The Steelers travel to Kansas City to take on the Chiefs on Sunday night.  The game will be played at 8:20 p.m. ET at Arrowhead Stadium.
Arrowhead Stadium has not been a friendly venue for the hometown Chiefs this season.  The Chiefs are 1-3 at home, and their 4-6 overall record leaves them in last place in the AFC West.
The Chiefs are coming off of a 34-3 loss to the New England Patriots on Monday Night Football.  The Chiefs have suffered several other lopsided losses this season, including a 41-7 loss to the Buffalo Bills, a 48-3 loss to the Detroit Lions, and a 31-3 loss to the Miami Dolphins.
However, Steeler Nation may not want to get too excited about the Chiefs' record, or their losses.  After all, the last time the two teams faced one another (in 2009), the Chiefs were one of the worst teams in the NFL.  Yet they managed to pull off a 27-24 win over the Steelers.
The Chiefs will start Pittsburgh native, and former Pitt Panther, Tyler Palko at quarterback.  Palko became the starter when Matt Cassell was injured against the Denver Broncos two weeks ago.
Cassell isn't the only quarterback battling injuries.  The Steelers' own QB, Ben Roethlisberger, will also be playing with an injury.  Big Ben broke his thumb against the Cincinnati Bengals, and will be wearing a glove and a splint to protect the thumb.
Because of Roethlisberger's condition, the Steelers may call on Rashard Mendenhall early and often.  The Chiefs have allowed an average of over 150 rushing yards per game over their past five games.  Mendenhall must be salivating when he thinks about that statistic.
Winning this game is crucial for the Steelers.  The Baltimore Ravens won on Thanksgiving Day, and moved to 8-3.  The Steelers need to win this game to remain tied with the Ravens at 8-3.
Despite being tied with the Ravens, the Ravens have the advantage in the tie-breakers.  Therefore, the Steelers need to win more games down the stretch than the Ravens do.  If they end the season with a better record than the Ravens, then their 2 losses to the Ravens will become a moot point.
I predict that the Steelers will leave Kansas City with a victory.  However, I was wrong the last time I predicted a Steelers' win over a bad Chiefs team.  Hopefully, history won't repeat itself.
Go Steelers!
Today's featured item:
Leading up to the holidays, we'll be suggesting gift ideas that we believe Steelers fans will enjoy.
Today, we are featuring these Steelers salt and pepper shakers.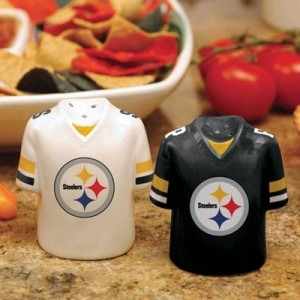 These ceramic salt & pepper shakers include the Steelers logo on the front, and the words "salt" and "pepper" on the back.  They're sure to look great on any Steelers fans' table.
Click the link above to purchase this great Steelers item.