Editor's Note:  Below is a story that was submitted by Beth Apone Salamon.  It is a tribute to her father, Carl Apone.  The piece first appeared in the Pittsburgh Post Gazette, and Beth asked if I would share it with my readers.  Once I read it, I immediately knew that any Steelers fan would appreciate this sad but touching story.
Her dad, Carl Apone, truly personifies "the heart of a Steelers fan".  Enjoy!
From September through January, for three hours most Sundays and on the occasional Monday night, my father is alert, awake and engaged in a Steelers game. While this may seem like a small feat for a Pittsburgher, consider that this is the only extended period of time that he is alert, awake and engaged in anything.
Somewhere, deep down inside, is a Steelers fan who won't let illness and exhaustion rob him of the chance to yell, "Atta boy, Polamalu!" at the television screen. He is hard-core.
My mother explained to my father's cardiologist, a dour man who barely speaks, that congestive heart failure causes my father to sleep the entire day and night, waking only to eat. The one exception is when the Steelers play. Whether it is a day game or a night game, he is somehow able to remain awake to cheer for the entire three-hour event.
The cardiologist smiled, exercising facial muscles he rarely employs, and suggested that my mother put Steelers games on a recorded loop and play it all day so her husband could stay awake. Mother was not amused.
Three years ago, after the congestive heart failure began, my father became an old person. Before that he was an old person who never acted old. Hailing from a long line of small Italians who drink wine and live forever, he never seemed to age, even into his 80s. Most nights you could find him laughing with his almost 90-year-old sister, Mimi.
Then, a few weeks after his granddaughter's first communion, Dad's condition deteriorated rapidly. He now sleeps between 18 and 20 hours a day. At Thanksgiving last year I cleared the table and when I returned he was sound asleep in the chair.
There are moments of grace, when we see glimpses of the old fighting spirit. He still answers all of my mother's spelling questions. If I ask him to remember something, he usually does, much like in my college days when he would call repeatedly to remind me of a test.
On a rare recent phone call he was delighted to learn that his granddaughter is taking up the violin and plans to play "Twinkle, Twinkle Little Star" for him. As the former music critic for The Pittsburgh Press, a violinist and a member of the Notre Dame Fighting Irish band, my dad, Carl Apone, has had a lifelong passion for music.
He still receives communion every Sunday at his home. This is poignant, as he was a eucharistic minister to the sick for years. I remember that once the eucharist was in the car that he was driving to the hospital or someone's home, he would not speak. It was a time for reverence.
But by far, the moments when he is most alive, most himself, are Steelers Sundays. My mother positions him in his comfortable chair and tries not to walk in front of the screen during key plays, a habit that has merited much arm waving over the years.
There is something beautiful about the way Pittsburgh embraces Steelers Nation. It is a love affair I've witnessed since childhood when the "Pittsburgh Polka" played and the priests at Our Lady of Grace Church wore Steelers stoles. It is personal to us, not just a sporting event where football players with fat salaries knock each other silly.
The players are part of our Pittsburgh family. We follow the legacy of the Rooney family, owners who know each player by name and show up every day to check not on the profitability of the franchise, but rather on the well-being of the players.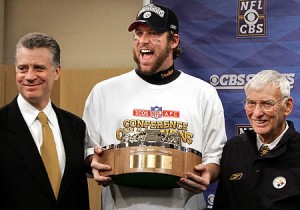 Steelers fans find each other, even in other cities. My parents once spent three weeks in Hilton Head during the winter. They met Steelers fans on the beach within 24 hours. By the next day they were invited to a Super Bowl party with a promise that Impy, the French bull dog, might wear his Steelers sweater.
Steelers fans are happy to stand in the cold and decorate the Terrible Tree on game days, because the Steelers' success is our success. I went to the airport during some recent playoffs and every steward or stewardess at the check-in gate was wearing Steelers garb, as well as most of those boarding. It was a mighty sea of black and gold.
Sure, we complain now and then. Why does Ben have to put us through such agony only to pull off an 11th-hour win? Some of us are old and our hearts can't take it. And why does the new stadium have that open side so we freeze our rumps? Some of us are old and we don't make our own heat anymore.
But when the chips are down, Steelers fans can't be kept from their appointed rounds. Even when congestive heart failure squeezes the last bit of energy from an old, tired body, the heart of a Steelers fan keeps beating. We are hard-core, and we are here, until the final play.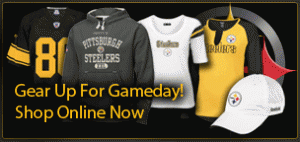 (If you enjoyed this article, please consider leaving a comment below. Also, please subscribe to our blog by pressing the orange button below. You can also follow us on Facebook or Twitter by clicking the doohickies at the bottom of the right column of this page.  Thanks.)

Subscribe in a reader