The Pittsburgh Steelers have traded wide receiver Santonio Holmes to the New York Jets for a 5th round draft choice in the upcoming NFL Draft.
According to ProFootballTalk.com, Holmes is facing a 4-game suspension under the NFL's substance abuse policy.  It has not yet been announced what the nature of the violation is.  Holmes could have failed a drug test, or he could have missed a scheduled drug test.
The NFL's rules require that a player who has multiple infractions of the drug policy must receive a 4-game suspension.  So Holmes has apparently failed drug tests in the past.
Because of the plethora of off-field problems that have been plaguing the Pittsburgh Steelers, it looks like the Rooney family felt that it was necessary to send a very loud message to both the Steelers players, and the Pittsburgh Steelers fans.
Holmes had already been in trouble this off-season for allegedly throwing a glass at a woman in an Orlando night club.  In 2008, Holmes was suspended for one game by the Steelers for being cited for marijuana possession.  In 2006, he was charged and arrested for domestic violence in Ohio, but the charge was eventually dropped.  Holmes also had several legal problems while in college.
As if those infractions were not enough, Holmes recently "tweeted" on his Twitter account that he was going to "wake and bake", a slang term for smoking marijuana upon getting out of bed.
Reports have it that the Steelers were growing tired of Holmes' behavior and had no intention of signing him to a new contract when his contract expired at the end of the 2010 season.  But this latest infraction was the last straw, and the team felt the need to get rid of him immediately.
The unfortunate part of the trade is that the Steelers will only receive a 5th round draft pick for Holmes.  Holmes was a first round draft pick in 2006, as well as a former Super Bowl MVP.  There are probably several teams that need a #1 wide receiver and would have offered more for Holmes.  But apparently, the Steelers felt that getting rid of him immediately was more important than maximizing the value that they got back from the trade.
The trade happened so quickly that Holmes and his agent only learned about the trade late Sunday night just like everyone else did.  His agent, Joel Segal, was not given an opportunity to negotiate a trade with any other teams.
Apparently, the Rooney family felt the need to make a very loud statement.  Message received.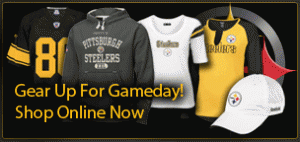 (If you enjoyed this article, please consider leaving a comment below. Also, please subscribe to our blog by pressing the orange button below. You can also follow us on Facebook or Twitter by clicking the doohickies at the bottom of the right column of this page.  Thanks.)

Subscribe in a reader