At 6'8″ tall and 345 lbs., Steelers' offensive tackle Max Starks should be impossible to miss. Yet, missing he has been. Some have hypothesized that he's in the Witness Protection Program. Others speculate that he's on a top secret mission in Afghanistan. Here at Steelers Today, we believe he's yet another victim of alien abduction (along with Dick Cheney, Barry Bonds, Tommy Davidson, and Limas Sweed).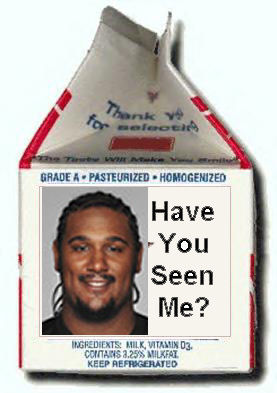 When Steelers guard Kendall Simmons was injured and placed on the injured reserve list for the season, Steelers fans assumed that Max Starks' role in the offensive line would increase. Wrong! When Marvell Smith battled cramps in the game against the Jacksonville Jaguars, Starks was the obvious replacement, right? Wrong! Perhaps we were hallucinating (we do that sometimes), but we could have sworn we saw Steelers kicker Jeff Reed play a few snaps at right tackle while Starks languished on the bench. Apparently, the Steelers believe that career backups and practice squad players can make a greater contribution to the Steelers offensive line than their $7 million man.
When questioned on the subject, Steelers Offensive Coordinator Bruce Arians said "Max is far too important to us as a 4th tight end. It would be a waste of his considerable talent to play him at tackle"
Kevin Colbert, the Steelers' Director of Football Operation shared a more business-oriented view of the Starks situation. When asked about Starks, Colbert said "We're paying Max $7 million dollars this year. He's our highest paid offensive lineman. Do you think we're going to risk his health by letting him actually block somebody? We've got to protect our investment".
Head Coach Mike Tomlin's answer was much more to the point. When asked why Starks hasn't been playing, Tomlin replied, "Who?"
If you should happen to see Max Starks (at the grocery store, or perhaps the library), please call Steelers Today at 1-800-FourthTE, or e-mail us at Where'sMax.com.
(If you enjoyed this article, please consider leaving a comment below. Also, please subscribe to our blog by pressing the orange button below. Thanks.)

Subscribe in a reader