Heeeeeeee's back!
The story that has overshadowed every other aspect of the Steelers' season so far has finally drawn to a close.  Big Ben is back.   He made his Steelers regular season debut Sunday against the Cleveland Browns.
Ben looked rusty at first, but he quickly worked his way through it.  Roethlisberger threw an interception on the Steelers very first possession, but after that, he calmed down and had a very successful return.
Personally, the play that made me feel certain that the old Big Ben was back was when he had Mike Wallace wide open on a fly pattern mid-way through the third quarter.  Wallace had his man completely beat, and would have easily scored.  However, Roethlisberger under-threw the pass, and Wallace had to slow down for the ball.  This allowed the defender to tackle Wallace.  That is exactly what Ben did most of last year when Wallace was wide open.  So it's good to see that Ben is back to his old self (sort of).
Roethlisberger finished the game with 257 yards passing, 3 TD's, and one interception.  That's much better than the 136 passing yards that the Steelers had been averaging during Roethlisberger's absence.
Roethlisberger found Hines Ward, Mike Wallace and Heath Miller for touchdown passes.  Rashard Mendenhall also added a rushing touchdown.
Of course, the defense played too.  They held Cleveland to 3 points for most of the game until the Browns scored a late touchdown with about 4 minutes remaining in the game.
James Harrison, in particular, seemed like he was ready to play.  Harrison led the teams in tackles, and quarterback hurries, and forced fumbles.  Some might say that it was a pretty typical game for Harrison.
However, what wasn't typical was the bone crushing hits that Harrison kept laying on the Cleveland Players.  I started to think that perhaps one of the Browns had said something insulting about Harrisons mother.  Whatever the reason, Harrison played with violent intentions.  He knocked Josh Cribbs out of the game early with a vicious hit.  Later, he almost decapitated Cleveland WR Mohamed Massaquoi.
Harrison will probably get fined for at least one of the hits.  But frankly, I love it when he's intimidating the opposition like that.  I think that both running backs and wide receivers think twice about coming his way when they know Harrison is out for blood.
The only thing that could make the day even better would be a loss by the hated Baltimore Ravens.  And guess what?  The  Patriots beat the Ravens in overtime.  So with a record of 4-1, the Steelers stand alone at the top of the AFC North.  Exactly where they should be.
Other Steelers notes:
On a separate note, Hines Ward's touchdown in the third quarter put him ahead of former teammate Jerome Bettis for second place on the Steelers' all-time touchdown list.  Ward now has 81 touchdowns as a Steeler.  Former Steelers great Franco Harris holds the all-time record with 100 touchdowns.
Ward also moved into 4th place on the NFL's record book for consecutive games with at least one catch.  Ward surpassed Hall-of-Famer Art Monk with catches in 183 straight games.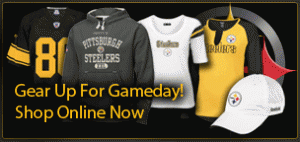 (If you enjoyed this article, please consider leaving a comment by clicking on the square at the top right of this article. Also, please subscribe to our blog by pressing the orange button below. You can also follow us on Twitter by clicking the bird doohicky below. Also consider following us on Facebook. Thanks.)

Subscribe in a reader