Well, it's almost April.  The NFL Scouting Combine is  over.  The owners have locked the players out.  I guess it's time to start talking about the draft.
Before we start talking about who the Steelers should draft, it's important that we first evaluate how the team currently looks.  Specifically, we need to define their strengths and weaknesses.
Despite the fact that the Steelers participated in the most recent Super Bowl, they are actually a team with quite a few glaring needs.
I'm going to start on the defensive side of the ball, because that's where I believe the team's greatest needs lie.
Lot's of people are saying that the Steelers' greatest need is offensive linemen.  I don't agree with that.  In my opinion, the greatest need on the team is at cornerback.
Ike Taylor was the only cornerback on the team who even played at an average level.   Ike has been the Steelers' stopper for years now.  He's a big, fast cornerback who can handle any receiver in the league.  Despite that, Ike is limited.  Steelers fans all know that Ike can't catch.  So he's never going to generate a lot of interceptions.  Ike has never had more than 3 interceptions during a season, and he's averaged about 1 interception per season throughout his career.
While being a solid cover corner is great, Ike's inability to create interceptions is kind of like a 3-4 rush linebacker who doesn't generate sacks; he's failing at an important part of the job.
Ike will be 31 years old this year, so he's not getting any younger, and he's going to start losing a step or two soon.  Moreover, Ike is a free agent this year.  The Steelers didn't sign Ike to a new contract, and they seem to be content to let Ike hit the free agent market.  If that happens, it could be a potential nightmare for the Steelers, since they really don't have any other weapons in their cornerback arsenal.
Bryant McFadden was brought back last year, and by midway through the season, most Steelers fans probably wished he was still in Arizona.
If you'll recall McFadden's first stint with the Steelers, he was being platooned with William Gay.  McFadden was viewed as being stronger against the run, but Gay was better in coverage.  Well, that's pretty much how things still are (which is a scary thought, considering how poorly Gay covers).  McFadden is strong in run coverage, but he can't cover anybody.  Not even my grandmother.  And she's 89 years old.
If the Steelers cut McFadden today, I don't think there would be a single fan who would miss him.
In 2009, William Gay proved that he is not a viable starting cornerback.  He was much better this year when he didn't have the pressure of being a starter on him.  Gay's performances ran hot and cold.  He made some really great plays at critical moments.  But he also got burned badly at critical moments.  I think most fans are content to see Gay utilized in nickel and dime packages, but not as a starter.
2010 was supposed to be the year that Keenan Lewis made himself a valuable member of the Steelers' defense.  But sadly, that didn't happen.
Lewis has all of the physical attributes that Dick LeBeau could possibly hope for.  He's big (6'0″, 208 lbs), fast, and athletic.  When he was drafted, I envisioned him playing opposite Ike Taylor, giving the Steelers two cornerbacks who were big and athletic enough to handle even difficult receiving tandems like the Arizona Cardinals old duo of Larry Fitzgerald and Anquan Boldin.  Unfortunately, that vision has never materialized.
Sadly for Steelers fans, Lewis' mental abilities don't seem to match his physical talents.  He can be counted on to make a silly mental mistake at the most inopportune times.  Even worse, he often loses control of his emotions and draws penalties that are due entirely to immaturity and hot-headedness.
Did anyone else find it odd that in a season where the Steelers clearly struggled at the cornerback position, Lewis wasn't able to earn any increased playing time?  That says all that needs to be said about what the coaches think about Lewis' development.  Next year will probably be a make or break season for Keenan Lewis.
The Steelers drafted Crezdon Butler in last year's draft.  Like most rookies playing in the Steelers' defense, Butler didn't get much playing time.  So the jury is still out on him.  But I'll expect to see a lot more out of him in 2011.
Those are the players who will likely battle for the starting cornerback positions next year.  Now imagine what the competition will look like if the Steelers lose Ike Taylor to free agency.  The starting cornerbacks would likely be Bryant McFadden and William Gay.  Yikes!  The mere thought of it is enough to bring you to tears, isn't it?  With those two as the starting cornerbacks, the Steelers would likely go 0-16.  That's why I say that cornerback is the single greatest need for the Pittsburgh Steelers.  Frankly, all other needs pale in comparison.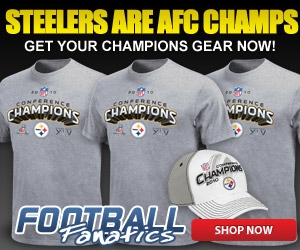 (If you enjoyed this article, please consider leaving a comment by clicking on the square at the top right of this article. Also, please subscribe to our blog by pressing the orange button below. You can also follow us on Twitter by clicking the bird doohicky below. Also consider following us on Facebook. Thanks.)

Subscribe in a reader