April 26, 2009
By Donald Starver
With their 6th round pick, the Steelers selected Ra'Shon Harris, DT, Oregon.   Harris stands 6'4″, and weighs 305 lbs.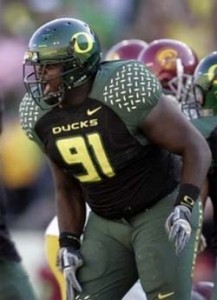 This will not be Harris' first time playing for "Pittsburgh".  Harris actually graduated from Pittsburg High School in Pittsburg, CA.   Perhaps being drafted by the Steelers was inevitable.
Harris is a big, strong player who enjoys spending time in the weight room.  He shared the team's top bench press mark (415 lbs.) as well as topping the defensive linemen in the power clean (314 lbs.).
Harris didn't see much action in his first two years.  He became a regular substitute during his junior year, and finally became a starter as a senior.
Harris has decent speed for a man his size.  He has an excellent anchor, and can hold up well against the double team.  He is good at plugging the middle when the run is straight at him.  He also gets a very good push and is able to collapse the pocket on passing downs.
httpv://www.youtube.com/watch?v=mKc6M8Nl5OE
Despite these strengths, Harris just isn't much of a playmaker.  He gets very few tackles, although his ability to take up blockers did help his teammates.  Harris' lacks mobility and agility.  His stamina and work ethic have also been questioned.  Despite his weight room prowess, he is in poor physical condition.
He did relatively well during East-West Shrine Game practices, and this probably got a lot of teams to look at him that wouldn't have been interested otherwise.
Despite his shortcomings, Harris is a big body who can take up blockers.  This makes him a viable option as a 3-4 DE if he is willing to dedicate himself to improving his conditioning.
To read about the Steelers' previous pick, click here.
To read about the Steelers' next pick, click here.
(If you enjoyed this article, please consider leaving a comment below. Also, please subscribe to our blog by pressing the orange button below. Thanks.)

Subscribe in a reader