As if playing without Troy Polamalu weren't enough, the Steelers were dealt an even harder blow.  Defensive end Aaron Smith has been lost for the season.
Smith suffered a shoulder injury in Sunday's game against the Detroit Lions.  Yesterday, Steelers' head coach Mike Tomlin announced that Smith's injury  "might be significant".  After being evaluated, it was discovered that the injury was a torn rotator cuff in his right shoulder.  Smith has been placed on injured reserve and will be lost for the remainder of the season.
Smith is a quiet, unassuming player who seldom draws attention to himself.  Yet he may be the best player in the league at his position.  Smith is second on the team in sacks with 2.  He also leads the team in quarterback pressures.  But his real strength is in stopping the run.  Smith is virtually unmovable on the left side of the Steelers' line.
While he doesn't receive the attention that Troy Polamalu does, Smith's loss may be more significant than playing without Polamalu.  For starters, when Polamalu went out, we knew that he would be coming back in "3 to 6 weeks".  However, Smith has been placed on the injured reserve and won't be returning this season.
The last time Smith was injured, the defense saw a precipitous drop in their effectiveness.  In  2007, Smith tore his bicep and was lost for the last 3 games of the season.  Prior to the injury, the Steelers' defense was #2 against the run.  After Smith was lost, the defense allowed opponents to rush for over 157 yards per game.
The team will try to replace Smith with a combination of 1st round draft pick "Ziggy" Hood, Travis Kirschke, and Nick Eason.
To bolster their depleted defensive line, the Steelers have signed Ra'Shon "Sonny" Harris from the Carolina Panthers' practice squad.
Ironically, the Steelers tried to sign Harris earlier this year when the Panthers cut him.  However, Harris chose not to sign with the Steelers, and he re-signed with the Panthers because he felt he had a much better chance of making the 53-man roster with the Panthers.  How quickly things change.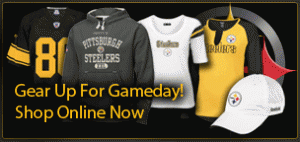 (If you enjoyed this article, please consider leaving a comment below. Also, please subscribe to our blog by pressing the orange button below. You can also follow us on Facebook or Twitter by clicking the doohickies at the bottom of the right column of this page.  Thanks.)

Subscribe in a reader