While I was on vacation for the holiday, I didn't simply spend my time sipping egg nog.  Nope, I put my time to much better use. I slipped into the Cleveland Browns' practice facility to see if I could find a stray playbook, or some other item that might give the Steelers an advantage in their final regular season game on Sunday.
We all know that beating the Browns will guarantee the Steelers the #2 seed in the AFC.  So I wanted to do my part to help bring that about.  I've learned that even the Cleveland Browns can't be taken for granted.
While I was snooping around the Browns' facility, I happened to notice something hanging on the wall in the Browns' locker room.  It was a poem that had been written by the Browns themselves.  It gives insight into how the Browns view their rivalry with the Steelers.  I thought that it was worth sharing with Steeler Nation.  So here it is.
We Can't Beat Them
(By the Cleveland Browns)
We, the Browns' veterans
from over the years.
Leave these words for the current Browns,
though they're soaked in tears.
Try as you might,
and we're sure that you will.
You cannot defeat
The Men of Steel.
We could not beat them
at Three Rivers.
The thought of that place
gives us the shivers.
We could not beat
the mighty Steel Curtain.
Though we tried our best
defeat was certain.
We could not beat
the one called Greene.
We were scared of him,
he was so darn mean!
We could not stop
Bradshaw to Swann.
Those guys were awesome!
We're glad they're gone!
We could not beat
the one called "Bus".
He ran through our "D".
He was stronger than us
We can't beat them
at Heinz Field.
Those Terrible Towel wavers
make all foes yield.
We can't beat
the one called "Ward".
If he's a receiver
why does he hit so hard?
We can't beat Troy
with his flowing hair.
Or James Harrison
and his icy stare.
We can't stop
number 17.
He's the fastest receiver
we've ever seen.
And what are we supposed
to do with Big Ben?
In or out of the pocket
he's impossible to defend.
How do we stop
their black and gold might?
Perhaps garlic and holy water?
Or Kryptonite?
We can't even beat them
on our home turf.
If we can't beat them here
Can we beat them anywhere on Earth?
We can't beat them
here nor there.
We can't beat them
anywhere.
They have better colors.
They play in a better town.
They win Super Bowls
while knocking us around.
We don't mean to depress you
with these words of gloom.
But facing the Steelers
is a sure path to doom.
But give it your best shot,
and you'll learn why we feel
that we cannot beat
those Men of Steel.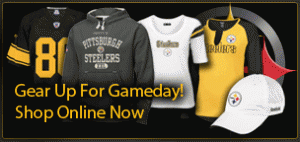 (If you enjoyed this article, please consider leaving a comment by clicking on the square at the top right of this article. Also, please subscribe to our blog by pressing the orange button below. You can also follow us on Twitter by clicking the bird doohicky below. Also consider following us on Facebook. Thanks.)

Subscribe in a reader