June 15, 2009
By Donald Starver
Recently, one of our readers asked us "which Steelers veteran is likely to lose his job in 2009?".  I answered the question in the comments section of one of our articles, but I thought the question was interesting enough to expound upon further.
The Steelers will convene for training camp on July 31, and competition will begin for roster spots.  The Steelers brought in some veteran free agents, and they had an exceptional draft.  Both factors mean that the roster is likely to undergo some changes.
As we look ahead to what is likely to happen in training camp, a couple of names come to mind who may be at risk.
The first name that comes to mind is Carey Davis.  Davis has managed to maintain a roster position since 2007.  However, going into 2009, the numbers may not work in Davis' favor.  Davis finds himself behind Willie Parker, Mewelde Moore, and Rashard Mendenhall on the depth chart.  The Steelers drafted Frank Summers from UNLV, and he appears to be the Steelers' short yardage back of the future.
To further compound Davis' problems, he is officially listed as a fullback, and Steelers' offensive coordinator Bruce Arians doesn't really use the fullback position in his offensive scheme.  Arians prefers to utilize an H-back as the primary blocker in the backfield.  He has returning veteran Sean McHugh at that position, and has added promising rookie David Johnson from Arkansas State in the draft.
When you compare all of the players vying for time in the Steelers' backfield, Carey Davis seems to be last in the pecking order.  When the music stops, Davis is likely to find himself without a chair.
The next Steelers player in the crosshairs is probably Trai Essex.  Essex was drafted by the Steelers back in 2005.  Former Steelers offensive line coach Russ Grimm seemed to have a lot of confidence in Essex.  Essex never broke into the starting lineup, but he made himself valuable by learning to play multiple positions along the offensive line.  "Position flexibility" is something that current Steelers head coach Mike Tomlin clearly values.  However, how long will the Steelers remain patient with a player who has not been able to break into the starting lineup despite playing for an offensive line that is often criticized for lacking talent?
In my opinion, the fact that Essex was not able to win Kendall Simmons' starting position at right guard when Simmons went down with an injury, may have been the final nail in Essex' coffin.  Instead of winning Simmons' position, Essex was beat out by undrafted free agent Darnell Stapleton.
With the addition of young talent like Kraig Urbik and A.Q. Shipley to the Steelers' offensive line competition, Essex may finally find himself on the outside looking in.
Another Steeler player who may find himself on the endangered species list is Charlie Batch.
Batch is a quality backup quarterback who seems to embrace the backup role.  Unlike Byron Leftwich, who openly proclaimed that he wanted to compete for a starting position, Batch seems content to be a backup.  The fact that Batch is from the Pittsburgh area probably enhances his contentment.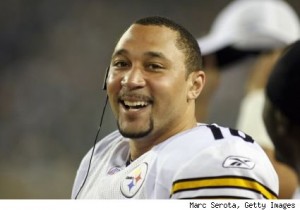 Unfortunately, Batch has a young lion named Dennis Dixon challenging him for the #2 position.  Dixon is a very talented young quarterback who might have won the Heisman Trophy had he not suffered a season-ending injury during his final year at Oregon.
If Dixon can show that he has mastered the playbook, he is likely to overtake Batch on the Steelers' depth chart.  If that happens, Batch's career will likely be over.  As a 12 year veteran, Batch doesn't have much gas left in his tank.  He makes too much money to be a viable #3 quarterback, so rather than retain him as the third quarterback on the roster, the Steelers would probably release him and develop Kevin McCabe or Mike Reilly to be #3.
Hopefully, Batch realizes that his future is completely in Dennis Dixon's hands.
Another player who may find himself at risk is Tyrone Carter.  Carter has always been small for the safety position.  There are plenty of 5'9″ cornerbacks in the NFL, but you don't find many safeties that size.  Moreover, you don't find many strong safeties who only weigh 195 lbs.  Tyrone Carter falls into both categories.  That can't be a good thing.
Two factors may make Carter expendable.  The first is the development (or lack thereof) of Ryan Mundy.  Mundy is younger, taller, and heavier than Carter.  If Mundy shows his potential in training camp, Carter will be sweating bullets.
The second factor that may make Carter expendable is Deshea Townsend's ability to pick up the safety position.  I have often said that Townsend would make a great free safety, and that moving to the position would help extend his career.  Townsend is one of the most intelligent players on the Steelers' roster.  He has never been the fastest player on the field, or the most talented.  However, Townsend is rarely out of position.  That is the primary requirement of a free safety.  Just ask Anthony Smith.
Two factors may save Carter.  Firstly, Townsend is two years older than him.  So age is on Carter's side.  The second is the fact that the Steelers just don't have many safeties on the roster.  Troy Polamalu, Ryan Clark, and Tyrone Carter are the only  safeties on the Steelers' roster with NFL experience.  Thus, Tyrone Carter may be saved by the lack of viable competition.
The final veteran who may find himself at risk is Travis Kirschke.  Kirschke is the oldest player on the Steelers' roster.  Despite not getting much playing time, Kirschke usually performs well when given the opportunity.  He knows the defense, and does his job when called upon.  Unfortunately, time waits for no man.  The Steelers need to get younger at the defensive line positions.  Kirschke will be 35 years old next season, and finding a young replacement for him will help the Steelers in the future.
So who do you fans think will NOT be on the Steelers' roster when the season starts?  Do you agree with our assessment?  If not, why not?  We'd love to hear your comments.
(If you enjoyed this article, please consider leaving a comment below. Also, please subscribe to our blog by pressing the orange button below. Thanks.)

Subscribe in a reader