The NFL Scouting Combine began on Thursday.  It is an annual ritual in which scouts, coaches, and team general managers come to Indianapolis to watch potential NFL players do a bunch of things that have almost nothing to do with football.
"Nothing to do with Football?!!!", you say,  "The 40 yard dash has everything to do with football.  We need to see if the guys that we draft are fast!"
That statement might be true if you were Al Davis.  But for the rest of the sane world, the 40 yard dash is a useless measure.  How often does a football player run 40 yards?  Not many.  How often does an offensive lineman run 40 yards?  Never.
Don't believe me?  Let's take a look at the season that just ended.  During the 2009 regular season, Peyton Manning completed a total of 8 passes for 40 yards or more.  That's right, 8.  Out of 571 pass attempts.  That's 1.4% of his passes.  Drew Brees completed 11 passes for over 40 yards.  Kurt Warner completed a whopping 3 passes for 40 yards or more.
We all know that Steelers offensive coordinator Bruce Arians is in love with the long pass, but even Ben Roethlisberger only completed 14 passes for 40 yards or more.  That's out of 506 pass attempts.  Starting to get the picture?  NFL players don't run 40 yards.
Even kick returners and punt returners don't break many returns for 40 yards.  And when they do, is it ever in a straight line?  Do they ever start from a track runners' starting position?  Nope.
How about the shuttle run?  Does that drill emulate anything that you've ever seen in a football game?  Didn't think so.
Same with the vertical leap.  When was the last time you saw a player jump straight up in the air from a standing position?  What insight will we gain about Terrence Cody when we see that his vertical leap is an awe-inspiring 4 millimeters?
And I don't even want to talk about how stupid the Wonderlic Test is.  Click here to see a sample Wonderlic Test.  Now tell me what the #$%*[email protected]!# that has to do with football?  What would you have done if your job had made you take that test before they hired you?  Does the term "go postal" sound familiar?
Yet despite how silly the NFL Scouting Combine really is, it has become a made-for-TV event that is aired on NFL Network.  People actually stay home from work so they can watch this crap.
Message boards all over the internet will be littered with discussions about how fast a certain receiver is, or how many times a certain linemen bench pressed 225 lbs.
I remember a couple of years ago the Steelers picked up a guy named Mike Kudla who did an amazing 45 reps on the bench press.  Steelers fans on message boards were doing backflips over the guy.  I remember several Steelers fans even predicting that Kudla was a sure Hall-of-Famer.  Unfortunately, Kudla never played a regular season game in the NFL.  It's too bad the NFL doesn't use a bench press competition to determine the winner of overtime games.  If they did, Kudla would still be in the league.
I also remember Steelers fans tirelessly advocating that the Steelers select Jarron Gilbert with their first pick last year.  Most of them had never actually seen him play.  Not a single down.  But what they had seen was a YouTube video of Gilbert jumping out of a swimming pool.  Yeah, players do that all the time during the course of a game.  In case you're wondering, Gilbert started no games this season, made appearances in 4 games, and accumulated a total of 1 tackle.  So much for jumping out of swimming pools.
It's one thing when casual fans make the mistake of falling in love with workout wonders.  But it's a sin when NFL officials do it.  That's exactly what happened last year when the Oakland Raiders made Darrius Heyward-Bey the first receiver drafted.  Heyward-Bey ran a blistering time in the 40 yard dash, and that was all Al Davis needed to see.  However, if Davis had bothered to review actual game tape of Heyward-Bey, he would have noticed that he can't catch.  That's a bit of a problem for a wide receiver………..even if he is fast.
Fortunately for Steelers fans, Kevin Colbert and Mike Tomlin don't seem to fall into the trap of falling in love with workout wonders.  They are very disciplined in their approach and seldom make early round draft mistakes.
I just wish they could say the same thing about their later round picks.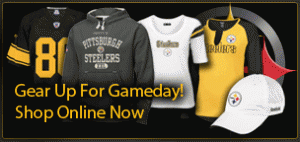 (If you enjoyed this article, please consider leaving a comment below. Also, please subscribe to our blog by pressing the orange button below. You can also follow us on Facebook or Twitter by clicking the doohickies at the bottom of the right column of this page.  Thanks.)

Subscribe in a reader