As if the Steelers and the Packers didn't have enough points of contention leading up to Super Bowl XLV, the Associated Press has just added another.
The 50 media members who make up the AP's panel of judges voted Troy Polamalu as the 2010 AP Defensive Player of the Year.  Polamalu beat out Packers' linebacker Clay Matthews by 2 votes.  Steelers' linebacker James Harrison was third in the voting.
Prior to the announcement, many believed that Clay Matthews was certain to win the award.  I guess the favorite doesn't always win.  By the way, Las Vegas oddsmakers have Green Bay as the favorite to win the Super Bowl on Sunday.  I just thought I'd mention that.
Frankly, I was surprised to learn that Troy had won the award.  I was afraid that he would be penalized for missing two games with an injury.  Fortunately, the voters recognized Troy's value despite the missed games.
Troy's 7 interceptions in 2010 tied his career high.  He was 2nd in the NFL in that category.  Ed Reed of the Baltimore Ravens had 8 interceptions.
Troy also had 63 tackles, 1 sack, 1 forced fumble, and 18 passes defensed.
Congratulations, Troy.  The award couldn't have gone to a nicer guy.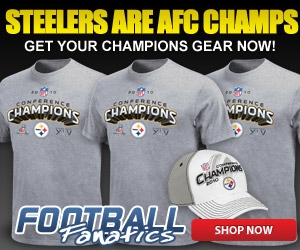 (If you enjoyed this article, please consider leaving a comment by clicking on the square at the top right of this article. Also, please subscribe to our blog by pressing the orange button below. You can also follow us on Twitter by clicking the bird doohicky below. Also consider following us on Facebook. Thanks.)

Subscribe in a reader